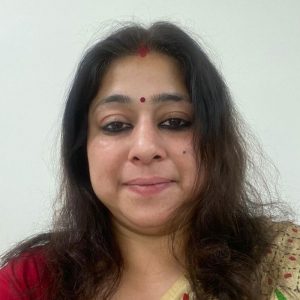 DR. PRIYANKA JAIN
Assistant Professor - Department of Sociology
About:
Dr. Priyanka Jain, is currently working as Assistant Professor, SLA teaching sociology, business communication, value education and research methodology courses at various schools of NIU. Presently, serving as Editor-in- chief of NIU Journal of Social Sciences (NIUJSS), a peer-reviewed journal. In addition, fulfilled administrative responsibilities at Centre for Research Studies (CRS) as Course Coordinator (Ph.D. Programme) and Registrar Office as Officer on Special Duty (OSD) to the Registrar of university engaging in research and policy documentation interventions. Her Ph.D. was on "Impact of Transnational Migration on Identities of Chakmas in Northeast and Consequential Shifts in India's Foreign Policy". For the same, she has done extensive field work in difficult geographic terrains of Arunachal, Tripura, Assam, Meghalaya and so on.
Further, she has been a trainer in the corporates like AEGIS, HCL on women safety issues and in addition, worked for advocacy of child rights by promoting film based on child labour, "IAM KALAM" in premier institutes like IIT Delhi, IIM Ahmadabad and Kolkatta, XISS Ranchi, Narsee Monjee Mumbai, Jamnalal bajaj Mumbai, etc. She has international exposure of being Resource Person on "Trafficking and HIV/AIDS '' in World Social Forum, Lund, Sweden.
Experience:
14 years in academics, research and industry.


Qualification:
PGDBM (HRM), MA, Ph.D.
Awards & Recognitions:

● Appointed as External Expert in Adhoc Committee on Courses and Studies in Tribal Study Centre, Jai Narain Vyas University, Jodhpur, Rajasthan, India
● Awarded Gold Medal in MA Sociology from Jamia Millia Islamia, New Delhi
● Awarded scholarship to pursue MA Sociology at Jamia Millia Islamia, New Delhi
● Awarded state Topper in Rajasthan in Essay Competition organized by Aligarh Muslim University (AMU).


Research:
Papers published: 09
Book Chapters: 06

Certifications:
● Won many essay and debating competitions and was certified for the same by MNIT Jaipur, Jamia Millia Islamia University, LSR, etc.
● Attended Research Methodology Course on "Applied Research Techniques Using Statistical Package in Social Sciences (SPSS)" at Jamia Milia Islamia University, New Delhi.