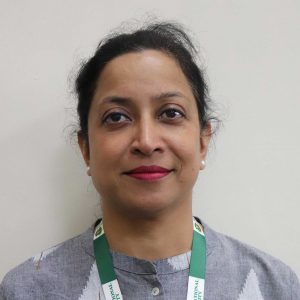 Dr. Ruchika Gupta
Dean - School of Journalism and Mass communication
Dr. Ruchika Gupta is a UGC NET qualified doctorate in the field of Mass Communication & Journalism. She is a commerce graduate from Delhi University with post graduations in the field of Commerce, Public Relations, Mass Communication and Management with specializations in HR and Marketing.
Her professional career spans over two decades and comprises work experience in both academics and corporate organisations. She has rich academic experience in various roles for more than fifteen years. Apart from academics, she has also worked in various capacities with a leading food and pharmaceutical company and done consulting work in Public Relations.
As an expert in the field of Human Resource Management and Mass Communication, she has been a resource person in conferences, seminars, MDPs and workshops in these areas and lectured at various B-schools, and colleges in India on topics like Non-verbal communication, Cross-cultural communication, Communication in CSR, etc. She has also authored books on human resource management and mass communication.