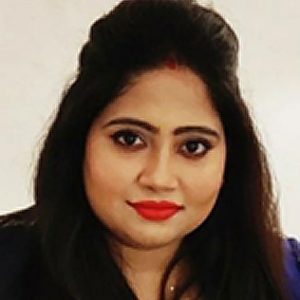 Ms. Jayati Mukherjee
Assistant Professor
Qualification: Ph. D. (Persusing), M. Tech, B. E.
Area of Specialization: Machine Learning, Image Processing, Computer Vision
Email:jayati.mukherjee@niu.edu.in
EXPERIENCE:
Total teaching Experience: 1 Year
Since OCT 2021 working as Assistant Professor, Noida International University, Noida.
Guest Faculty Dec, 2018- June, 2019 Rabindra Bharati University, Kolkata.
Guest Faculty Oct, 2018- March, 2019 Saint Xavier's college, Burdwan.
Research Experience: 8 months
Project Linked Person July 2017 — March 2018 Indian Statistical Institute, CVPR Unit Kolkata.
AREA OF INTEREST
Machine Learning, Image Processing, Computer Vision
PUBLICATIONS:
National Publications
[1]. Jayati Mukherjee, Swapan K. Parui, Utpal Roy, "NN based analytic approach to symbol level recognition for degraded Bangla printed documents ", Sadhana journal (Indian Academy of Science), Pp. 1-22, Vol-45, Issue-1, Dec 2020, ISSN- e256-2499. [Indexed In : SCImago, SCOPUS, Science Citation Index Expanded ]
[2] Jayati Mukherjee, Swapan K. Parui, Utpal Roy, "Degraded Bangla Character Recognition by k NN Classifier", International Journal of Computer Sciences and Engineering, Pages 42-47, Vol.-7, Issue-1, Jan 2019, E-ISSN: 2347-2693. [Indexed In: Google scholar, UGC Recognized Journal, Research Gate]
International Journals
[1]. Jayati Mukherjee, Swapan K. Parui, Utpal Roy " An Unsupervised and Robust Line and Word segmentation Method for Handwritten and Degraded Printed Document", ACM Transactions on Asian and Low-Resource Language Information Processing, Pp. 1-31, ISSN-2375-4699, Vol 21, Issue-1. [Indexed In: Elsevier: SciMago, Elsevier: SCOPUS ]
International Conference Publication:
[1]. Jayati Mukherjee and Utpal Roy, "Recognition of Degraded Bangla Documents Using Hybrid Deep Neural Network Model," 2021 International Conference on Advance Computing and Innovative Technologies in Engineering (ICACITE), 2021, pp. 254-259, doi:
10.1109/ICACITE51222.2021.9404691. IEEE Explore. [Indexed In : ISI, SCOPUS, Google Scholar ]
[2] Jayati Mukherjee, Pallab Kumar Dey," Transforming an Incomplete Dataset into Complete one Based on Rough Set Theory", Third International conference on computing and systems-2016, PP.- 69-73, ISBN:978-93-85777-13-4, 2016.
WORKSHOP /SEMINAR/FDP ATTENDED
[1] International workshop on Remotely Sensed Big Data Analysis and Mining (RSBDAM'18)
Organizers : Geo science and Remote Sensing Society (Kolkata Chapter) ,Centre of soft computing research ( Indian Statistical Institute).
[2] Three Day UGC Sponsored National Level Workshop on Recent Trends in Computer Science and Information Technology. Organizers: Department of B.Voc. (Software Development), Mahishadal Girls' College.
[3] IEEE COMPUTATIONAL INTELLIGENCE SOCIETY DISTINGUISHED LECTURE.
Organizers: Department of Computer Sciences, University of Gaur Banga and IEEE computational Intelligence Society, Kolkata Chapter.
[4 ] International Webinar on Artificial Intelligence and Data Science.
Organizers: Department of Software Development, B. Voc studies IQAC, Ashutosh College, Kolkata.
[5] FDPOM:128 - "MATLAB and LabVIEW Programming for Engineering Applications Duration: 24.01.2022 to 04.02.2022, National Institute for Technical Teachers Training & Research, (Ministry of Education, Government of India)
[6] Natural Language Processing, Duration- February 7- 18, 2022 under the "Scheme of financial assistance for setting up of Electronics and ICT Academies" of the Ministry of Electronics and Information Technology (MeitY), Government of India. Organized by: e Electronics and ICT Academies at IIT Kanpur, IIT Roorkee, MNIT Jaipur, PDPM IIITDM Jabalpur and NIT Patna.
MEMBERSHIP OF SOCIETIES
[1] ACM Professional Member, Duration: OCT, 2021- OCT, 2022