About SLLA
At School of Law and Legal Affairs of Noida International University the goal is to enrich legal education by providing an environment in which law students can begin to learn the art of lawyering by serving real clients, and can develop the habit of reflecting on how to improve themselves, the profession, and the legal system. The faculty members at School of Law and Legal Affairs (S.L.L.A.) are highly qualified and experienced and have advance degrees in Law from renowned Central and State Universities.
To foster an educational environment we allow the student to strive for the highest level of practice. We provide each student with a caseload that involves a varied group of problems, legal issues, and lawyering skills. Our professional emphasis is on "client-centered representation," in which the student lawyer focuses on the client's goals, rather than defining what the client needs; and treats the client as an effective collaborator in problem-solving. Our educational goal is to graduate lawyers who know what excellent legal practice should be; and who have developed a habit of thinking about the complexities of the law and the larger implications of the work they do, making them life-long learners.
The School of Law and Legal Affairs has continued to change to meet needs of students, clients, community, and the Law School. In particular, we are proactive about constantly assessing and revising our educational methods. The School of Law and Legal Affairs (S.L.L.A.) strives constantly to foster the best possible educational environment; still, in the end, it is the students who make their own education. Other regular features of S.L.L.A. are Moot Court, Legal Aid Clinic, Invited Talks, Conferences, Seminars, Workshops and Quiz competitions etc.
Approved by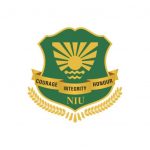 Law & Legal Affairs?
Law can be defined as the rules established in a community under the authority of the state or nation and applicable to its people. This could be in the form of legislation or of customs and policies which are acknowledged and enforced by judicial decision.
A lawyer is someone who studies Law and gains knowledge regarding all the rules and regulations. It is the lawyer's job to advise the people about the law and to also speak for them in court.
VISIT TO DISTRICT PRISON, GURUGRAM (BHONDSI)
Date of Visit : 12/10/2018
School of Law and Legal affairs, a department of NIU had organized a successful study visit at District Prison Gurgaon (Bhondsi) on 12th October 2018. The entire department (students and faculties) had participated in the visit. Initially students interacted with Jail superintendent Shri Jai Kishan Chiller and Shri Jawahar Yadav, OSD to CM Haryana and Chairman, Haryana Housing Development Board who enlightened the students with the purpose of establishing the model jail and then showed the entire prison including visitors area, prison ward, Kitchen area, Cultural area etc. They also explained the prison administration system as well as showed the unique communication system developed by a prisoner which is very much effective in communicating with their family members by the prisoners.
The visit end with a vote of thanks from HOD SLLA Dr.Parantap Kumar Das followed by high tea arranged by jail administration
Courses & Fee Structure
FEE PER SEMESTER
Note:
*An additional INR 1000 to be paid per semester as per Activity Fee
*Scholarships are on the Tuition Fee only.
SCHOOL OF LAW AND LEGAL AFFAIRS
Deparment Of Law Legal Affairs

| | |
| --- | --- |
| NAME : | Mr. Arun Kumar Singh |
| Qualification : | BA.LLB (Hons), LLM, |
| Designation : | Assistant Professor |
| Department : | School Of Law & Legal Affairs |

| | |
| --- | --- |
| NAME : | Ms.Ritu Gautam |
| Qualification : | B.Com, LLB, LLM, PGDBA, PGCCL |
| Designation : | Assistant Professor |
| Department : | School Of Law & Legal Affairs |

| | |
| --- | --- |
| NAME : | Mr. Himanshu Priyadarshi |
| Qualification : | BA.LLB(Hons), LLM, UGC-NET |
| Designation : | Assistant Professor |
| Department : | School Of Law & Legal Affairs |