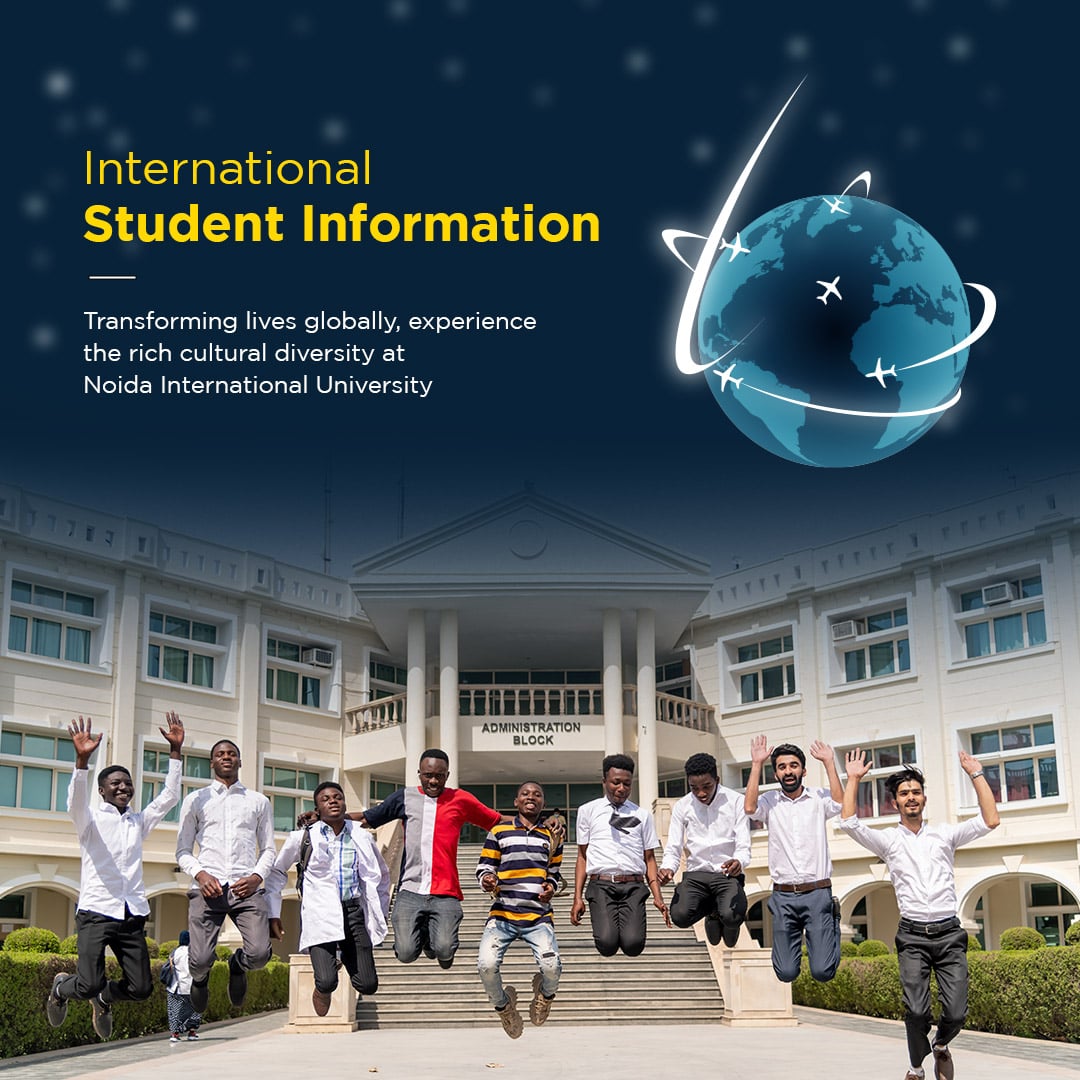 Noida International University was established with the motive to provide quality education to international students. The University strives to become a beacon of world-class education by creating a diverse learning environment for students that is conducive to their personal and professional growth.
To fulfil its ambition of being the pioneer university creating a diverse educational ecosystem for international students, Noida International has devised a system that caters to the needs of international students. It involves weaving up traditional and modern learning processes and transforming NIU into a multi-cultural abode for students aspire to receive a high-quality education in their field of interest from all across the globe. With 275+ renowned faculty members and students hailing from more than 30 nations, Noida International University has set a benchmark for cultural and regional diversity.
NIU has been a strong advocate of uplifting the medical infrastructure in the country and to prove its commitment towards providing affordable healthcare facilities to the masses, Noida International Institute of Medical Sciences was set up as a part of NIU. The University also offers a variety of Paramedical courses to produce skilled medical professionals who can help elevate the quality of healthcare services provided globally.
The University aims to transform its campus into a global knowledge hub by offering over 75+ courses via 12 schools to foreign and domestic students which not only fulfils their intellectual ambitions but also provide them to prove their mettle globally.
"Education is the manifestation of perfection present already in a man. Divinity is the manifestation of the religion already in man".  –  Swami Vivekananda 
Birthplace of Vedas and great minds like Chanakya, Vivekananda, Mahatma Gandhi and former President of India APJ Abdul Kalam, India is known for its values, divinity, diversity, faith and education. Our thousand years old legacy is an amalgamation of superior quality of education mixed with spirituality at its core.
Apart from being a home to cultural and religious marvels like the Taj Mahal, Akshardham, Ajanta Caves, etc., India also has an educational ecosystem of more than 340 universities and 16,500 colleges. This cluster of universities and colleges has helped India to become the second-largest education system in the world.
Over the years, the education system of India has progressed leaps and bounds, and today some of the great names in the education domain that echo on the global stage belong to India.
Noida International University, popularly known as NIU and one of the top universities in India, is one such educational institution in India which not only strives to uplift the level of education in India but aspires to become a unique destination for international students searching for world-class education and diverse curriculum.
Located at the heart of the nation's capital, NIU provides unlimited access to domestic as well as international students who are keen to know about India's heritage and cultural diversity.
Noida International University is one of the best universities in India and has pledged to provide unhindered and quality education to every student who has joined this esteemed institution in search of a diverse course curriculum and world-class education. Take a look at the salient features of NIU:
75 acres of lush green campus
275+ renowned faculty members
Students from 30+ countries, including Afghanistan, Africa, Bangladesh, Bhutan, France, Kazakhstan, Nepal, Philippines, Thailand, UAE, South Korea, etc.
75+ courses offered by 12 schools
Accommodation and Transport facilities
International Student Exchange Program
Noida International Institute of Medical Sciences
50% Scholarships in all the programs
International Student Information
Noida International University, Delhi, NCR agrees in principle to admit Foreign Nationals/NRI students to any of our top colleges which offer Under-graduate, Post-graduate and Ph.D. programmes in different fields on an annual basis to provide educational opportunities to Foreign Nationals/NRI students.
A Foreign National:
This means an Individual who has citizenship of a foreign country (Citizens of all counties other than India) and does not have the status of "NRI" and/or "Person of Indian Origin" (PIO).
Person of Indian Origin:
This means a Person having foreign citizenship (Except Pakistan and Bangladesh) without "NRI" Status, but who holds a foreign passport at the time of sending application, consideration for admission and during the period of his study and he/she or anyone/both of his/her parent(s) or anyone/both of his/her grandparent(s) is (or was) are (or were) citizen(s) of India by virtue of the provisions of the constitution of India or section 2(b) of citizenship Act 1955 (Act No. 57 of
Non-Resident Indians:
"NRI" in this context means Non-Resident Indian as defined in Income Tax Act, 1961 with the following clarifications: An individual is a Non-Resident when he is "not a resident" or who is "not ordinarily resident". A person is treated as "not ordinarily resident" when any of the following Conditions are satisfied: If he/she has not been resident in India in nine out of ten preceding years; or If he/she has not been in India for 730 days or more during the preceding seven years.

Status of Foreign Nationals/NRI:
Foreign Nationals /NRI students are categorized as follows:
Sponsored by the Govt. of India (through ICCR) on the cultural exchange program.
Sponsored by the home country of the concerned Foreign Nationals/NRI students and/or funding agencies.
Self-financing direct entry (with the clearance of Govt. of India)
NRI students.
No-Objection Certificate: 
Foreign Nationals/NRI students do not require to submit a No Objection Certificate for joining professional courses. However, all Foreign Nationals/NRI students willing to undertake any research work or join a PhD program will have to obtain prior security clearance from the Ministry of Home Affairs and the approval of the Department of Secondary & Higher Education, Ministry of Human Resource Development, Government of India and must be on the research visa endorsed to this institution.
Medical Test: 
All Foreign Nationals/NRI students will have to undergo a medical fitness test before taking final admission. A medical test report should show that the student does not have any contagious or infectious diseases including hepatitis B, chest infections and heart disease. A chest X-ray must be attached to  the report.
Medical Insurance:
It is advised that all Foreign Nationals/NRI students take a medical insurance policy to meet the expenses of medical treatments (which are not available in the university health center) during the stay at the university. A copy of the said insurance policy should be submitted at the time of final admission. There is a medical facility available on campus and further medical aid will be made available from hospitals nearby.

Proficiency in English:
a) The student must have passed the qualifying examination in the English medium.
b) The student must have a valid score in proficiency test in English like TOFEL and IELTS.
Discipline:
The international students should abide by all the rules and regulations of NIU and the code of conduct as applicable to Indian students enrolled in the same course.
Procedure to apply for Equivalence Certificate
The qualifications required for eligibility for admission to different programs can be checked in detail from the information brochure or university website. The minimum educational
qualification for admission of Foreign Nationals/NRI in various programs is the same as for Indians.
Only those students who have qualified from Foreign Universities or Boards of Higher
Education, recognized as equivalent by the Association of Indian Universities (AIU) is eligible
for admission. When required, a reference will be made to AIU to check the equivalence.
NRI/Foreign students should attach an Equivalence Certificate with the admission application form. They can procure the same from the Association of Indian Universities (AIU), www.aiuweb.org.
Students are advised to send the following documents to the Association of Indian Universities for obtaining the Equivalence Certificate:
Degree/Certificate together along with year-wise Academic Transcript duly authenticated by
the Indian Embassy in the Country or its concerned Foreign Mission in India.
Accreditation status of the University/Institute which the student has last attended.
Copies of the academic certificates from Higher Secondary onwards (as per the
requirement).
The Service Charge for issuing the Equivalence Certificate as applicable is payable through
Demand Draft in favour of "Association of Indian Universities, New Delhi".
The onus of Certification for Equivalence from AIU is on the candidate and the application will be considered only after the Equivalence Certificate is submitted.
Checklist for the registration formalities at FRRO
International students staying in India for more than 6 months are required to get themselves registered within 14 days of their arrival, at the nearest office of the Foreigners Regional Registration Office (FRRO). Those who have PIO cards or OCI are exempted from the registration requirement.
The following documents are required for registration:
Photocopy of the passport and initial visa.
Four photographs of the applicant.
Details of residence in India.
Bonafide certificate from the university/college/institution
Proof of Bank account/sufficient funds for non-scholarship students
Those who are visiting India on a long-term visa of more than one year and are in the age group of 15 to 60 years require an HIV test report from one of the WHO recognized institutions.
Copy of the marriage certificate, in case of those seeking extension of stay on grounds of being the spouse of an Indian national.
Certificate from the University, College or Institution in case of student visa.
All Foreign/NRI students will be required to register themselves with the concerned District Foreigners Registration Officer/Foreigners Regional Registration Officers within 14 days of their first arrival in India.
Foreigners coming from or through yellow fever countries must come with a valid vaccination certificate.
For Online registration and details please click
            https://indianfrro.gov.in/eservices/home.jsp
(Latest guidelines by FRRO or Concern Authorities, will be applicable at the time of admission/registration)
English Language Foundation Program (Duration 3/6 Months)
English Language Foundation program is a short-term program that focuses on improving students' spoken and written English skills.
We ensure to build your foundation in the English language so that you can pursue your professional/technical course with confidence.
After completing the English Language Foundation program, you will improve upon the following things:
The confidence of communicating in English in a variety of situations
Speaking fluent and accurate English
Listening, reading and speaking for daily communications, discussions and presentations
Writing skills for well-structured sentences
Grammar and vocabulary in context
Duration and Course Fee:
| | |
| --- | --- |
| Duration | Course Fee |
| 3 Months | USD 368 / INR 25,000 |
| 6 Months | USD 515 / INR 35,000 |
This section explains the complete procedure of the application process for any course. It makes it simple for the students to navigate through the bottlenecks faced while filling out the application form. It also mentions the documents required for international admissions.
Step 1
Complete the Online/Offline application form and submit the required documents
Applicants have to fill in their online application form by clicking on the below link:
https://admissions.niu.edu.in/
Applicants must upload the below-mentioned documents with the official seal, UG and PG transcripts along with their online application form or email the same to: internationaladmissions@niu.edu.in
 The documents list is given below-
Class 10/ X / SSC Mark sheet / 'O' Level Certificate or equivalent mark-sheet
Class 10+2/ XII / HSSC / Intermediate Mark sheet / 'A' Level Certificate or equivalent mark-sheet for UG & PG courses
Graduation or equivalent mark-sheet for Post Graduate courses
Graduation or equivalent mark-sheet for PG courses
If required - Certification for Equivalence from AIU
Transfer / Migration certificate (if any)
Photocopy of Passport (for International Students)
National ID Card
4 recent Passport size Photos
*Transcripts in languages other than English are not acceptable
Students can complete the application and payment process in online and offline mode. It is recommended that the applications should be completed in all aspects and submitted for admission along with the required documents. If your documents are found missing, you will be notified immediately and your application will not be reviewed until they are received. The same information is also available on the official website.
Step 2-
Pay your application fee:
When you submit your online application form, you will need to pay an application fee of 17 USD / INR 1,100 (non-refundable) via net banking/credit card/debit card. (as per the bank details and online
payment link mentioned below).
Step 3-
Pay your registration fee:
Students meeting the eligibility criteria as prescribed in the admission prospectus would be considered for admission. Non-refundable registration fee of 450 USD / INR 30,000 will be charged for admission.
(as per the bank details and online payment link mentioned below).
Note: - Details of the fee deposited by the candidate must immediately be furnished to the admission department through email at internationaladmissions@niu.edu.in with the candidate's name and course to which admitted, a scanned copy of the bank Receipt, etc.
Step 4-
Offer of Admission:
A provisional admission letter and bonafide letter for visa purposes will be issued once the payment is received. After obtaining the provisional admission letter, you may apply for a visa. You have to deposit the full fee to complete the admission process.
All the Foreign Nationals/NRI students will require a student visa endorsed to only Noida International University, Delhi, NCR for joining full-time programs. No other endorsement is acceptable. The visa should be valid for the prescribed duration of the course.
Step 5-
Reporting to Campus:
On arrival, students have to submit their original documents to the registrar's office for verification purpose to confirm the admission.
Documents required for the journey-
Passport Size Photographs (approx. 15 no's)
Driving License
Enough money to cover the costs of your first few days until you have opened a bank account
Bring one set of your national attire as you might need it at functions at the University.
keep all important documents in soft copy and leave some photocopies of all your important documents with your parents or friend for safekeeping.
Make sure that you bring the Admission Letter issued by the University along with all the required Certificates/Degrees and Transcripts (in original)
PACKING-
Many airlines have a restrictive weight or size allowance, so check with your airline before you leave. You should have enough warm clothing for your flight and subsequent stay in Noida for the winter months.
VACCINATION-
Make sure that you have taken all the required vaccinations like Yellow Fever, Typhoid Vaccine, Hepatitis Vaccine, etc., to avoid medical complications while you are in India. International students are advised to get a medical insurance
TEMPERATURE-
Delhi's climate varies depending on the season you visit the country's capital. It is very hot in Summer (April-July) and cold in winter (December-January). The average temperature can vary from 25oC to 45oC during Summer and 22oC to 5oC during Winter. In Summer, adequate precautions need to be taken, to avoid the intense heat, such as wearing light cotton clothing, wearing a hat or sunshade while going outdoors and drinking plenty of liquids. In winter, wearing warm or woolen clothing will protect you from the cold. 
ARRIVAL IN DELHI – INDRA GANDHI INTERNATIONAL (IGI) AIRPORT
To reach NIU, one has to board a flight to Delhi. On arrival at IGI Airport-New Delhi, private cabs
can be hired to reach NIU. This is one of the most convenient ways to reach NIU from any part of India or abroad 
General Information 
Confirmation of accommodation you have booked including full address and telephone number. Make sure you inform International Division at least one week before arrival.
You can carry all your money in form of a Traveler's Cheque or you can use an International Debit/Credit Cards.
Opening an Indian Bank Account-
You must have enough money to last until you have opened a bank account, which can take a little time. For opening a Bank Account in Greater Noida, you may need the following documents:
Copy of Passport Unconditional Offer Letter
Proof of your address at the University and overseas
Passport size photographs, and any other documents requested by the bank.
POST-ARRIVAL INFORMATION: ARRIVAL IN DELHI – INDRA GANDHI INTERNATIONAL (IGI) AIRPORT
Students should make sure about the following points after arriving in India
After arriving at Indira Gandhi International Airport, University will arrange Airport Pickup for
Students who have shared their flight details with International cell.
Students will report to the International Division of NIU along with all the required documents and meet with the reporting officer.
Students will fill out the registration form and submit the required documents. The submitted documents will be checked and verified, and if the required student will be advised to obtain Equivalence Certificate from Association of Indian Universities (AIU).
It is a mandatory for all international students except those from Nepal and Bhutan to get their student Visa registered at FRRO/FRO Noida or New Delhi within 14 days of arrival in India. The University will guide and assist students with all the required processes.
Students joining the university after a prescribed time may be denied admission.
It is the prime responsibility of the student to visit the International Relations Department in time to complete the required documentation so that no fine is levied against them.
Complete the Application Form Online
Letter issued to you for checking eligibility
Make payment of non-refundable registration fee of 450 USD / INR 30,000 to reserve your seat
Admission Letter / Visa Letter will be issued and you can apply for Student Visa at your nearest Indian Embassy / High Commission
For International Admissions, Please Contact Office of International Relations
Office of International Relations has dedicated staffs committed to the needs of international students. We provide guidance to international student's right from their arrival in the institute in matters of their cultural, legal and academic needs and other issues of relevance. NIU International office has dedicated officers to serve the needs of International student's welfare. They serve as the first point of contact for all international students and all their queries are answered. They are always available for the students to facilitate their pick up from the airport to their stay, logistics, their mandatory registration, visa verification, police information, etc. The goal of International Relation office is to enhance internationalization at NIU. It is the central contact point for international students and researchers – before, during and after their study at NIU. It also supports domestic students and researchers from NIU with all questions concerning international mobility. It coordinates international partnerships and develops programs with partner universities.