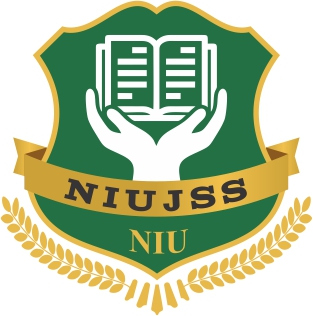 The Noida International University Journal of Social Sciences (ISSN Number: 2347 9795) is an annual, open access, interdisciplinary, international and peer-reviewed journal published by the School of Liberal Arts, NOIDA International University since, 2013. The details can be viewed on the journal web page of the university website www.niu.edu.in. 
• To create a high standard quality database of interdisciplinary publications, both theoretical and empirical in nature 
• To give a platform of authentic and benchmark publications to not just experienced academicians, researchers and professionals but also upcoming research scholars who are pursuing Bachelors, Masters, Doctoral and Post-doctoral research in social sciences and related fields. 
• The journal has a clearly specified publication policy including ethical guidelines for the authors depicting commitment to academic integrity 
• The journal provides wide variety of theoretical and empirical database from the field of social sciences which is at the same time interdisciplinary in nature 
• The journal encourages manuscripts focussing on newly emerging ideas, concepts and theories in the field of social sciences, thereby reflecting efforts for new directions in research 
• The journal gives opportunity of publications in form of different types of articles like research papers, review papers, short communications, case studies, book reviews, latest publications, perspectives and commentaries 
• The rigorous double-blind review process gives scope of content enhancement and validity to the publication of authors as one review is compulsorily done by the subject matter expert 
• The journal gives credibility to the manuscripts published as all articles go through authentic plagiarism check by the plagiarism software Urkund accessed by the university 
• Wide range of indexing services will be made available to the authors for publishing in the journal 
• Low cost publication opportunity is available for the authors as they can access manuscripts online free of cost and in hard copy form by payment of nominal charges 
• The systematically devised work flow processes of the journal guarantee fast and timely publication to the authors 
• The manuscripts will be archived online which will provide with immediate and permanent access to manuscripts published by the journal 
Broad Areas of Publication
• Anthropology
• Archaeology
• Cultural Studies
• Demography
• Development Studies
• Economics
• Education
• Environmental Studies
• Tribes of India
• Gender & Women Studies
• History
• International Relations
• Geography
• Labour Economics & Industrial Relations
• Law & Legal Affairs
• Sociology
• Linguistics
• Literature
• Media Studies
• Peace & Conflict Studies
• Philosophy
• Political Science
• Disaster Management
• Social Work
• Human Rights
• Psychology
• Public Policy
• Human Resources Management
• Migration Studies
• Diasporic Studies
• Academicians • Experienced Researchers • Research Scholars • Govt. and Private Universities • Educational Institutes • Research Institutes • Development Professionals • Policy Makers • Media Houses
For submission of manuscripts and any further information, please write to editorial team at editor.niujss@niu.edu.in.
The editorial office can also be contacted at the following address:
Dr. Priyanka Jain, Editor-in-Chief,
School of Liberal Arts,
Academic Block (Ground Floor),
Noida International University
Mobile: 9910030865, Email: priyanka.jain@niu.edu.in