ABOUT SOS
The School of Sciences started with the challenge of imparting good quality theoretical and practical education in different disciplines of Science. The School comprises of seven diverse departments with graduate and postgraduate programs. Through our diverse teaching programs we aspire to prepare professionals in the skills of the discipline and to equip students to contribute to rational debate and planning in society on the many aspects of biotechnology, microbiology, agriculture, physics, computer science, chemistry, mathematics and the natural environment. The emphasis is on interactive teaching learning process through tutorial, presentations, demonstrations and discussions based teaching. Our mission is conducting excellent research and creating the next generation of science talent. The core objective of the school is to impart students with logical thinking, analytical reasoning, and problem solving skills in the area of Sciences. To equip them with more scientific technological skills in order to meet the growing demand in the industrial, and Research Sectors. The school aspires to:
Plan, develop and offer academic programs at Under-graduate and Post-Graduate level and encourage research in discipline-based as well as systemic areas.
Collaborate with industry and research institutions for holistic development and growth.
Provide learner support using electronic media, and participate in the development and monitoring of student support services.
Organise and participate workshops, conferences and seminars sponsored by National and International agencies with a view to improve transaction of science curriculum.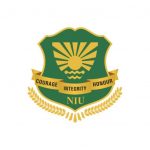 Extended up to 5th Feb. 2019.
B. Sc Agriculture
The objective of the B.Sc. (Hons.) Agriculture program is to educate future agriculturalist, who has general knowledge and skills in agricultural production, process, and farming based on agricultural, natural, technical and economic sciences in diverse areas of modern agriculture.
PROGRAM HIGHLIGHTS
Course structure as per ICAR (Indian Council of Agricultural Research) approved syllabus.
UGC recognised  University, Graduate students are eligible for employment anywhere in the country and abroad.
Agricultural Farm attached with the college campus. Well-equipped Labs with necessary field equipment and research facilities for demonstration and independent project work.
Live projects & demonstrations in the areas of crop production, nursery raising, organic farming, floriculture, Medical plants andvegetable crop production.
Innovative programmes for Agbsc:-
Rural Agricultural Work Experience (RAWE)
In RAWE students are exposed to real life rural settings. Its aim is to develop a sense of awareness among the students about the problems of farmers and rural people to inculcate professional attitude in facing real-life problems. Major components are industrial attachment, field visits, village attachment and plant clinic. In the industrial attachment, students get attached to an industry and gain work experience over there. In village attachment, students get attached to a village where they work under the guidance of farmers. They also help farmers in various operations. Field visits are organized to progressive farms, KrishiVigyanKendras, Horticulture Centres and IPM Laboratory, etc. In the plant clinic, students undergo rigorous training. They diagnose the various problems of soils and plants related to production and give solutions or suggestions to farmers.
Practical Crop Production (PCP)
It is an integral part of the course curriculum for B.Sc. Ag. degree. In this one hectare of land is provided to a group of eight students. They have to cultivate it themselves. They not only earn during PCP by selling their produce but also bear the risks associated with crop production.
Laboratory Facilities
The College has well equipped laboratories where students do experiments and get practical knowledge. There laboratories are functioning in different departments.
Computer Cell
It has a large number of computers with internet facility. The students can use these computers for their work at any hour of the day.
Students Placement Cell
This cell helps the students by way of counseling and getting them good placement. A large number of students join private organizations every year through campus interviews.
About Approval of ICAR:-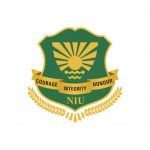 As per law, ICAR is advisory and recommending body not a regulatory authority like AICTE, MCI, VCI etc. Generally, ICAR is an agency to provide financial assistance for carrying out various kinds of researches in agriculture and allied fields.
CAMPUS RECRUITMENT:
The importance of Agriculture is growing rapidly, and is thereby increasing job prospects in the field. Graduates can find jobs in both public and private sectors. Agricultural Departments, Extension Services, Research Organisations, Commercial Farming, etc. are some of the sectors where graduates can find job opportunities. The employment landscape looks very promising, with leading companies looking to hire experts in the field. These include:
Some job profiles offered to B.Sc. Agriculture graduates include Agriculture Officer | Assistant Plantation Manager | Agricultural Research Scientist | Agriculture Development Officers | Agriculture Technician | Agriculturists | Business Development Executive | Marketing Executive | Rice Breeder | Seed Technologist | Junior Agriculture Specialist | Junior Associate – Research
PRIVATE SECTOR:-
In private sector huge no of opportunities are available, some of  them we are listing
Sugar factories,
Fertilizers and pesticide companies
Tobaco and cotton industries
Rural development works
Seed companies like Himalaya and Nuzivedu etc,,
Courses & Fee Structure
FEE PER SEMESTER
Note:
*An additional INR 1000 to be paid per semester as per Activity Fee
*Scholarships are on the Tuition Fee only.
Faculty profile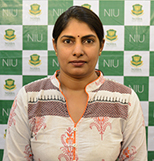 Dr. A. Geetha Bhavani
Associate Professor & HOD
PDF (Nanoporous Materials -POSTECH, South Korea), Ph.D. (Heterogeneous Catalysis)
Department of Chemistry

| | |
| --- | --- |
| NAME : | Dr. Abhilekha Sharma |
| Qualification : | Ph.D. (New Chemicals Enties) |
| Designation : | Associate Professor |
| Department : | Department of Chemistry |

| | |
| --- | --- |
| NAME : | Dr. Arshi Amin |
| Qualification : | Ph.D. (Analytical Chemistry) |
| Designation : | Associate Professor |
| Department : | Department of Chemistry |
Department of Biotechnology and Microbiology

| | |
| --- | --- |
| NAME : | Dr. Varun Kumar Sharma |
| Qualification : | PDF (INSERM-Paris, France), Ph.D. (Molecular Oncology from UNIPD, Italy) |
| Designation : | Assistant Professor & HOD |
| Department : | Department of Biotechnology and Microbiology |

| | |
| --- | --- |
| NAME : | Dr. Navroop Kaur |
| Qualification : | Ph.D. (Microbiology) |
| Designation : | Associate Professor |
| Department : | Department of Biotechnology and Microbiology |

| | |
| --- | --- |
| NAME : | Dr. Kashish Gupta |
| Qualification : | Ph.D. (Material Science) |
| Designation : | Associate Professor |
| Department : | Department of Biotechnology and Microbiology |

| | |
| --- | --- |
| NAME : | Dr. Garima Sharma |
| Qualification : | Ph.D. (Biotechnology) |
| Designation : | Associate Professor |
| Department : | Department of Biotechnology and Microbiology |

| | |
| --- | --- |
| NAME : | Dr. Namrata Dudha |
| Qualification : | Ph.D. (Biotechnology) |
| Designation : | Associate Professor |
| Department : | Department of Biotechnology and Microbiology |

| | |
| --- | --- |
| NAME : | Dr. Lomas Tomar |
| Qualification : | Ph.D(Biomedical), M.sc(Biotech), B.Sc |
| Designation : | Associate Professor |
| Department : | Department of Biotechnology and Microbiology |

| | |
| --- | --- |
| NAME : | Dr. Subodh Kumar |
| Qualification : | Ph.D(Biotechnology), M.sc(Biotech), B.Sc |
| Designation : | Assistant Professor |
| Department : | Department of Biotechnology and Microbiology |
Department of Agriculture

| | |
| --- | --- |
| NAME : | Dr. Shailesh Solanki |
| Qualification : | Ph.D. (Environment), MA (Sociology), B.Ed (Biology) |
| Designation : | Associate Professor & HOD |
| Department : | Department of Agriculture |

| | |
| --- | --- |
| NAME : | Dr. Anurag Tewari |
| Qualification : | Ph.D. (Botany) |
| Designation : | Professor |
| Department : | Department of Agriculture |

| | |
| --- | --- |
| NAME : | Dr. Sweta Thakur |
| Qualification : | Ph.D(Botany), M.Sc(Botany), B.Sc B.Ed |
| Designation : | Assistant Professor |
| Department : | Department of Agriculture |

| | |
| --- | --- |
| NAME : | Dr. Archana Singh |
| Qualification : | Ph.D. (Agricuture) |
| Designation : | Assistant Professor |
| Department : | Department of Agriculture |
Department of Mathamatics

| | |
| --- | --- |
| NAME : | Prof. (Dr.) Deepak Bhardwaj |
| Qualification : | Ph.D. (Mathamatics), M.Phil., GATE |
| Designation : | Professor |
| Department : | Department of Mathamatics |

| | |
| --- | --- |
| NAME : | Dr. Ritu Raj |
| Qualification : | Ph.D. (Mathamatics), M.Phil., GATE |
| Designation : | HOD |
| Department : | Department of Mathamatics |

| | |
| --- | --- |
| NAME : | Dr.Pankaj Sharma |
| Qualification : | Ph.D. (Queing Theory) |
| Designation : | Associate Professor |
| Department : | Department of Mathamatics |

| | |
| --- | --- |
| NAME : | Dr. Garima Malhotra |
| Qualification : | Ph.D. (Statistics), M.Phil |
| Designation : | Associate Professor |
| Department : | Department of Mathamatics |

| | |
| --- | --- |
| NAME : | Dr. Yashi Jaiswal |
| Qualification : | Ph.D. (Mathamatics) |
| Designation : | Associate Professor |
| Department : | Department of Mathamatics |
Department of Physics

| | |
| --- | --- |
| NAME : | Dr. Basant Kumar Das |
| Qualification : | Ph.D. (IIT Delhi) |
| Designation : | Associate Professor & HOD |
| Department : | Department of Physics |

| | |
| --- | --- |
| NAME : | Dr. Tanveer Ahmad Wani |
| Qualification : | Ph.D. (BU,Bhopal) |
| Designation : | Assistant Professor |
| Department : | Department of Physics |

| | |
| --- | --- |
| NAME : | Mrs. Babita Tripathi |
| Qualification : | MSc. (Physics), MA (Education), B.Ed. |
| Designation : | Assistant Professor |
| Department : | Department of Physics |
Department of Computer Sciences

| | |
| --- | --- |
| NAME : | Dr. Mahtab Alam |
| Qualification : | Ph.D. (CSE- Software Security) |
| Designation : | Associate Professor & HOD |
| Department : | Department of Computer Sciences |

| | |
| --- | --- |
| NAME : | Mr. Adharsh Malviya |
| Qualification : | M.Tech. (CSE) |
| Designation : | Assistant Professor |
| Department : | Department of Computer Sciences |

| | |
| --- | --- |
| NAME : | Mr. Priya Sharma |
| Qualification : | M.Tech (CSE) |
| Designation : | Assistant Professor |
| Department : | Department of Computer Sciences |

| | |
| --- | --- |
| NAME : | Mr. Piyush Anand |
| Qualification : | MCA |
| Designation : | Assistant Professor |
| Department : | Department of Computer Sciences |

| | |
| --- | --- |
| NAME : | Ms. Sapna Kataria |
| Qualification : | M.Tech (CSE) |
| Designation : | Assistant Professor |
| Department : | Department of Computer Sciences |

| | |
| --- | --- |
| NAME : | Ms. Simi Tiwari |
| Qualification : | M.Tech (CSE) |
| Designation : | Assistant Professor |
| Department : | Department of Computer Sciences |