NEP 2020-A New Paradigm To Empower
Unnat Bharat Abhiyan is inspired by the vision of transformational change in rural development processes by leveraging knowledge institutions to help build the architecture of an Inclusive India. Some of the themes mentioned as suggestions are organic farming, water management, renewable energy, artisans, industries and livelihood, basic amenities etc.

We at Noida International University, firmly believe in excellence and Unnat Bharat Abhiyan has provided us an opportunity to release the great amount of untapped potential within us. This mission gives us all a platform to contribute to the development of India and plan our future.

I am proud to announce that Noida International University has also adopted some villages as a part of this mission and I request all the schools to come forth and join in.

Now let's scroll down for the excellent work that can be done by NIU. Excellence award and certificate can be provided to all the participants in rural development as per Unnat Bharat Abhiyan. We can achieve the following changes:
1) Excellence in infrastructure development (School of Architecture)
2) Excellence in technology and innovation (School of Engineering Technology)
3) Excellence in community healthcare (School of Nursing and Health Sciences)
4) Excellence in education (School of Education)
5) Excellence in leadership (School of Liberal arts)
6) Excellence in administration (School of Business Management)
7) Excellence in advancing agricultural knowledge and research (School of Sciences)
8) Excellence in Advocacy (School of Law)
9) Excellence in Arts (School of Fine Arts)
10)Excellence in Research (Center for Research Studies)
11)Excellence in mass media (School of Journalism and Mass Communication)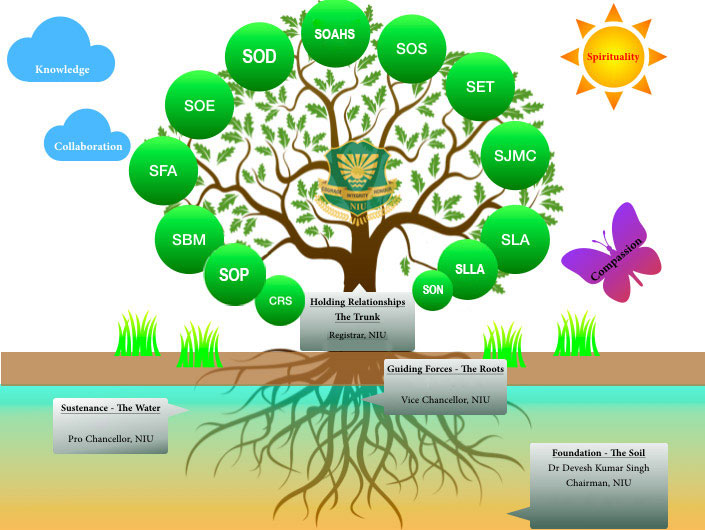 To foster high professional quality, standard recognition, achievement, development and leadership we can encourage our students to come up with creativeness in all respective fields to accomplish the tasks as aimed at every school.
These are some of my suggestions for improving and bringing in a positive change but it should not be the limit. I request all the schools to come up with their suggestions and innovations too.
SJMC – The students can make a documentary/ magazine on the village by identifying the great leaders in the village or war veterans Print a newsletter for the magazine and showcase the work done by NIU and about the village. These magazine can be distributed and showcased

SFA – Wall painting and beatification of the village with informational messages regarding education or agriculture

Waste material recycle and art promotion. Skill training in pottery and ceramic work

SOA – Planning for proper sewage and drainage. Planning and designing a arrier free environment

SET – Students can take up engineering projects where they can provide civil and technical design to help construct a toilet for the poor. Skill training in small electrical circuit building etc
SONHS – Identification of disease and prevention. Finding out the mortality and morbidity rate. Individual health education. Immunisation status. Free camps and rehabilitation facility for geriatric and paediatric population. Community based health programmes, nutritional programmes

SOS – Agricultural innovative methods for farming, organic farming. omposting and its importance. Economic planting and maintenance.

SOE – Literacy drive, health education. Visits to schools to assess and improve the quality in rural setups

Liberal Arts – Counselling on various topics for women and child. Family planning

SLLA – Free legal aid camps. Legal education for people.
GNM 3 rd year Students of School of Nursing and Health Sciences, has completed their community posting from feb2019 to March 2019 as a part of their urriculum as per UP State Medical Faculty. The students were posted in the Mirzapur village which has been adopted by Noida International University under "UNNAT BHARAT ABHIYAN" The students had been a part of the following activities:
Awareness about the importance of sanitation and hygiene.
Counseling pregnant mothers about the effects of hygiene and immunization.
Identification of the community problems.
Identification of the needs of the community people.
Health Education