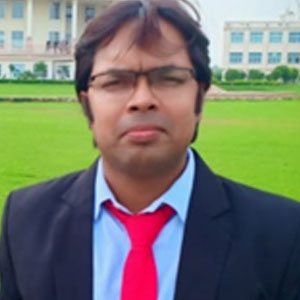 Adarsh Kumar
Assistant Professor
Qualification: UGC-NET, Ph.D Pursuing, M. A. Mass Communication
Total Experience: 18 Years (Media Industry(STAR News, ABP News, Aaj Tak, AIR, The Indian Express - 13+ Years-, Academics: 5 Years)
Book Published: 2
Awards & Recognition:
Long Association Award by ABP News
Certificate of Excellence by ABP News for Demonetization Coverage
Certificate of Recognition & Appreciation for Election Coverage in Five states
Shine Delhi Best Media Educator Award
Rising Star Award
Recited my poem in Laal Quila Rashtriya Kavi Sammelan organized by Hindi Academy & Delhi Government
Vandana Media National Award for Best Academician in the field of Electronic Media
The Best Student Award, Delhi University conferred by Ex- CM of Delhi Late. Smt. Sheila Dixit
Hindi Academy Puraskar by Hindi Academy
Special Honour, Alumni Club, BRAC, Delhi University
Member: Press Club of India
About
Adarsh Kumar is a Senior TV Journalist-TV Expert- Panelist of Prime Time TV debates and Assistant Professor with over 18 years of working experience in International News Channel STAR News, ABP News and Noida International University. He has worked for 12 Yrs. in No.1 news channel STAR News & ABP News and 5 years in Academics. He was associated with Star News- STAR India Group for 7 years, which is now part of Walt Disney, an American diversified multinational mass media and entertainment conglomerate. Earlier he was associated with Aaj Tak, All India Radio and Jansatta (Indian Express Group) for some time. ABP News has honored him with Certificate of Excellence in recognition of his contribution towards ABP News Network by way of 'Demonetization Coverage'. He received Certificate of Appreciation by ABP News for his contribution in election coverage of 5 States. He has received the prestigious Long Association Award by ABP News conferred by CEO of ABP News Network. He was also associated with a publishing house for a year as an Editor. He also received Rising Star Award, 2019 by Indraprasth Educational Research and Youth Development Board. He received Shine Delhi Award for Best Academician in Media Studies, 2018. He also received Vandana Media Award for Best Academician in the field of Electronic Media, 2018. He was also awarded as Shine Delhi Best Media Educator Award. He is a member of the prestigious Press Club of India.
He was invited by IGNOU as a Subject Expert for One hour live discussion session on DD Gyan Darshan Channel. He was also invited as a Distinguished Speaker in National Media Workshop/ Seminars organized by Delhi University & Mahatma Gandhi Central University, Bihar. He was invited as a speaker and honored in News of Bihar Media Conclave. He was invited as a Resource Person in many international conferences. He was invited as External Examiner by many media institutions. He was also appointed as Question Setter
by state universities. He has written many research papers which got published in UGC Care Listed journals and foreign peer reviewed International journals.
He was invited as a Judge in All India Debate Competition organized by L.K. Singhania Education Centre, Gotan & Kavya Path Pratiyogita organized by BRAC, Delhi University. He also recited his poem as a National Poet in the most prestigious Gantantra Mahotsav Lal Quila Kavi Sammelan in 2017 organized by Hindi Academy & Delhi government. He was Gold Medalist in BA (Hons) Hindi Journalism and Mass Communication, B. R. Ambedker College, DELHI University. He was the Delhi University Topper in BA (Hons) in Journalism & Mass Communication subject. He received The Best Student Award in Delhi University, conferred by Delhi's CM Sheela Dixit. He received Ashu Lekhan Puraskar by Hindi Academy. He was state topper in 10+2. He writes articles for newspapers & magazines on different issues.
He was also invited as a speaker in Social Media Manch 'Poochhta hai Bihar'. He also penned down a book Akshar Akshar Adarsh (Hindi Poetry) which is popular in India, Japan & many other countries. He has served as Expert in TV programming and his biggest strength is writing skill for every medium like Print, Radio, TV, documentary and films. He is expert in producing excellent TV shows. He interviewed many leaders and great personalities and produced the show of most popular anchors like Sayeed Ansari, Kishore Ajwani, Dibang, Abhisar Sharma, Ajay Kumar, Shazia Ilmi, Chitra Tripathi, Anjana Om Kashyap and many more. He directed the shoot for year ender show 'Deewar' anchored by Ashutosh Rana. He also supervised the show 'Asar' of Bollywood Superstar Aamir Khan under the guidance of Kishore Ajwani. He also supervised the show 'Main Hoon Naa' anchored by Tare Zameen Par fame Tisca Chopra. He produced the show 'Good Morning News' anchored by Bollywood's Ragini Khanna.