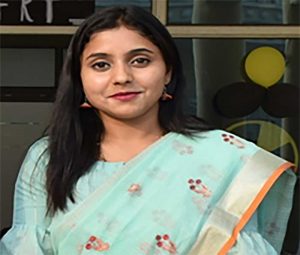 BHAWNA SOLANKI
PHD (PURSUING), M.SC. (MEDICAL TECHNOLOGY) RADIOGRAPHY, B.SC. (MEDICAL TECHNOLOGY) RADIOGRAPHY
About:
6 years of academic & administration experience in AHS.
Designed course handout for radiology and upgrade the curriculum.
Organized National symposium, world Radiology days, healthcare camps, workshop on career opportunities in MIT, webinar on different aspects of Radiology.
Mentored Radiology students for better knowledge and technical skills & e-learning.
School Name
SCHOOL OF ALLIED HEALTH SCIENCES
Department Name
DEPARTMENT OF RADIOLOGY
Designation
PROGRAME INCHARGE & ASSISTANT PROFESSOR
Experience
6YEARS
Qualification
PHD (PURSUING), M.SC. (MEDICAL TECHNOLOGY) RADIOGRAPHY, B.SC. (MEDICAL TECHNOLOGY) RADIOGRAPHY
Area of Interest
INTERVENTIONAL RADIOLOGY & FORENSIC RADIOLOGY
Skill sets & Expertise
BASIC RADIATION PHYSICS
Research and Publications (if any)
5 NATIONAL& 2 INTERNATIONAL PUBLICATIONS
Awards and Recognitions (if any)
LISTED AS EXPERT MEMBER (COURSE INSTRUCTOR) FOR FINALIZING CURRICULUM FOR RADIOLOGY TECHNICIAN, CTS NSQF LEVEL 5 UNDER CENTRAL STAFF TRAINING AND RESEARCH INSTITUTE, KOLKATA, DIRECTORATE GENERAL OF TRAINING (DGT), MINISTRY OF SKILL DEVELOPMENT AND ENTREPRENEURSHIP (2017-18).

EMPANELLED AS EXTERNAL EXAMINER/INVIGILATOR FOR HEALTH CARE VERTICAL AT TATA INSTITUTE OF SOCIAL SCIENCES (TISS-SVE), MUMBAI (2017-18).
Memberships (if any)
PANEL MEMBER IN INDIAN ASSOCIATION OF RADIOLOGICAL TECHNOLOGIST
Certifications (if any)
CERTIFITED BY SIMENS PVT.LTD AS SENIOR RADIOLOGY INSTRUTCOR FOR DIAGNOSTIC RADIOLOGY
Link to personal website/Blog
(If any) https://youtube.com/channel/UC6JGa-6u_4CxghXntTN9HGg