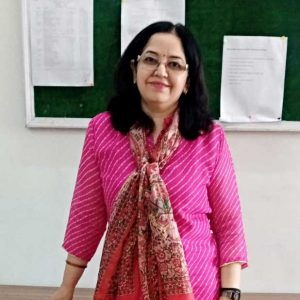 Dr. Aruna Singh
Associate Professor (SoE)
Dr. Aruna Singh, presently Associate Professor in Noida International University, Greater Noida, U.P. She obtained her MSc (Maths) & B.Ed from Ch. Charan Singh University, M.Ed from University of Jammu. She qualified UGC-NET in Education in Jan 2017 and completed her Ph.D. in Education on the topic "A Comparative Study of Environmental Attitude and Awareness among Senior Secondary Students of Rural and Urban area of Gwalior District" from Jiwaji University, Gwalior. She joined NIU in October 2021.
She has close to 12 years of teaching experience. She started her career as TGT ( Maths) in KVS Barnala, Panjab. She then taught as Lecturer (D.Ed) D.V.S College, Affiliated to Jiwaji University, Gwalior. After that she joined Shri Radha Vallabh College of Education, Affiliated to Jiwaji University as Assistant Professor. Then she joined School of Education, ITM University Gwalior as Assistant Professor.
She has made significant contributions to her field by publishing approximately 10 papers in journals listed in the UGC CARE database. She actively participates in a wide range of National and International Seminars, Workshops, and Conferences, showcasing her commitment to staying updated with the latest developments in her field. Notably, she has presented four papers in both national and international seminars, further demonstrating her expertise and engagement in scholarly discourse.
In addition to her active involvement in academic events, she holds various academic responsibilities, serving as an ERP Coordinator and Research Coordinator. These roles highlight her dedication to ensuring the smooth functioning of educational processes and promoting research initiatives within her institution or organization.
Her areas of interest encompass Teacher Education, School Education, Measurement, and Evaluation, among others. These academic pursuits showcase her focus on crucial aspects of the educational landscape, such as improving teaching practices, enhancing the quality of school education, and employing effective evaluation methods.