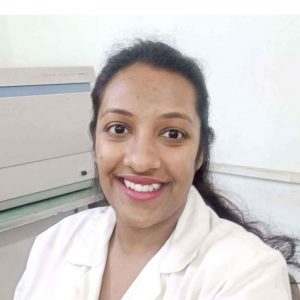 Dr. Debanjana Prasad
Assistant Professor
Department of Biotechnology
School of Engineering and Technology
Noida International University
Qualifications:
Ph.D. Biotechnology, Noida International University, Greater Noida
Tech Biotechnology, Amity University, Noida
Tech Biotechnology. Amity University, Noida
Area Of Specialization:
Molecular Biology
Microbiology
Phytochemistry
Email: debanjana.prasad@niu.edu.in
Experience (Research Experience):
Ph.D. Research Experience: 5 Years
Department of Biotechnology-Biotech Industrial Training Programme (DBT-BITP), BCIL, Ministry of Science & Technology, Government of India: 6 Months
Area of Interest:
Molecular Biology
Pharmaceuticals
Phytochemistry
Botany
Genetics
Workshops/Seminars/Webinars/Conferences:
Paper presentation and publication, International Conference on Research and Innovation Trends, CSERD, 2018.
Workshop on Bio-entrepreneurship Development, organized by DBT, BCIL,2018.
Developmental Biology-Gametogenesis and Fertilization, National Workshop, organized by Biotechnika, 2018.
Seminar on Intellectual Property Rights organized by NIU, 2018.
Poster presentation, Biogenesis VI- Synergy Between Academia & Industry organized by DBT, IILM, 2019.
Workshop on Biotechnology Start-up Ecosystem in India, organized by DBT, BCIL,2019.
International Conference on Agriculture, Forestry, Biotechnology and Food Science, organized by ASAR, 2019.
National Online Workshop on SARS-CoV-2 (COVID-19) & Molecular Diagnostics, organized by Helix Biogenesis Pvt. Ltd, 2020.
Importance of Biotechnology in Industries, Webinar organized by NIU, 2020.
Poster presentation, Conference on Translational (Engineering) and Regenerative Medicine organized by NIU, 2020.
Clinical Identification of Microbial flora, Webinar cum Workshop cum E-Internship, organized by Biosetup Lifescience collaborated ISO, MSME, 2021.
Poster presentation, Emerging Fields in Lifesciences, National Science Day organized by Biosetup Lifescience collaborated ISO, MSME, 2021.
Paper presentation, World Environmental Summit, organized by ESDA, 2021.
Nano-Informatics for Biomedical Applications, short term course organized by IIIT, Allahabad, 2021.
Telomerase As Therapeutic Target in Cardiovascular Diseases, International Webinar organized by Biosetup Lifescience collaborated IMTTS, MHH Germany,2021.
Third Edition of Darwin, International Conference, 2021.
An Educational Bioinformatics Project to Improve Genome Annotation, International Webinar organized by Biosetup Lifescience collaborated MSU, ICER USA, 2021.
Publications:
To Study Antibiotic Resistant Bacteria Due to Epigenetic Changes (Methylation)". International Journal of Engineering & Science Research.11:52-55; 2018.
Therapeutic Investigation of Antimicrobial Properties of Withania somnifera, Terminalia arjuna, Bacopa monnieri, Ranunculus sceleratus And Acalypha indica . Palarch's Journal of Archaeology of Egypt/Egyptology. 17(6):10017-10037;2020.
Antioxidant Determination and Thin Layer Chromatography of Extract Withania Somnifera, Terminalia Arjuna, Bacopa Monnieri, Ranunculus Sceleratus and Acalypha Indica . European Journal of Molecular & Clinical Medicine Volume. 7(11):4394-4408; 2022.
Comprehensive Therapeutic Interventions Against SARS-COV-2 : A Review and Prospective. International Journal of Pharmacy and Pharmaceutical Sciences. 14(11):1-12;2022.
mRNA Expression Profiling of Glutathione Peroxidase ( GPX Gene) Using Five Medicinal Plants on Cerevisiae . International Journal of Pharmaceutical Sciences and Research.14(3):1210-1219;2023.
Book Published:
Renewable Resources and Society. Renewable Energy Sources Renewable Energy Sources: An Assessment in Environmental Scenario. Bharti Publications.55-56;2020.
Comparative Preliminary Qualitative Phytochemical Determination of Medicinal Plants of Uttarakhand. Research Journal of Agricultural Sciences. 14 (5): 1300-1304;2023.