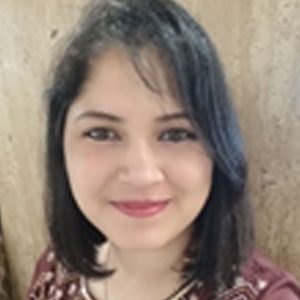 Dr. Namrata Dudha
PHD in Biotechnology
About
Namrata Dudha, Asst Professor, joined the University in February 2018. She did her graduation in Biosciences and Masters in Biotechnology from Jamia Millia Islamia, New Delhi. She obtained her doctorate from Jaypee Institute of Information Technology, New Delhi. She has worked as a JRF in National Institute of Immunology, New Delhi, prior to her PhD.
Her major research areas are Molecular Virology and Therapeutic aspects of phytochemicals and peptides. Current research interests in molecular virology include the studies on emerging virus chikungunya virus which is responsible for annual large-scale outbreaks in the country since 2006 when it infected ~1.6 million individuals. The on-going research objectives are to understand the chikungunya virus- host interaction and decipher the possible molecules that are involved in disease propagation. Thus, the studies on protein-based interactions of chikungunya virus with viral and host factors will help in understanding the pathogenesis and disease progression and could provide leads for future interventions.
She has several publications in high impact international journals. She was the co-convener of SERB and DST sponsored three-day National Conference on Translational (Engineering) and Regenerative Medicine -2020, 21-23rd Jan 2020. She was also the convener of Two-Day Workshop on Molecular Tools and Real-World Applications Based Experiments in association with Decode DNA Pvt. Ltd., on 2nd and 3rd Dec, 2021.
Experience:
She has an experience of 5 plus years in the academic industry. Post her PhD she has worked as a Guest Lecturer/Trainer with two private companies in Noida which were running a Govt funded program - UDAAN. This scheme aimed to provide youth of J&K employment-oriented training for Skill enhancement so that they may get absorbed in sectors like Business Management, KPO, BPO, Data Analysts etc. She has been working as an Assistant Professor in Noida International University where she is teaching undergraduate and Postgraduate students in subjects pertaining to Biotechnology and Microbiology.
Qualification
PHD in Biotechnology- Jaypee Institute of Information Technology, Noida
MSc. Biotechnology – Jamia Milli Islamia, New Delhi
BSc, Bioscience - Jamia Millia Islamia, New Delhi
Area of Interest
Virology and Cancer Biology and Phytochemical based Therapeutics
Research:
Papers Published: 45
Papers presented: 15
Copyrights: Registered 36 Copyrights for various self-assessment tests developed for corporate training programs and management theories/ (Details Attached)
Patents: 4 patents
Books: 1 authored book titled "Accounting for Managers" published by PHI, 1 Edited Book tilted "Transitioning From Globalized to Localized and Self-Reliant Economies" by IGI
Case Study: 6 Case Studies listed on "The Case Center"
Certifications:
Received various certificates from Asian Development Bank Institute, Japan; Elsevier Researchers Academy; One Fourth Labs, IIT Madras Research Park
Area of Interest: Interdisciplinary research in Information Systems, Innovation and Entrepreneurship.