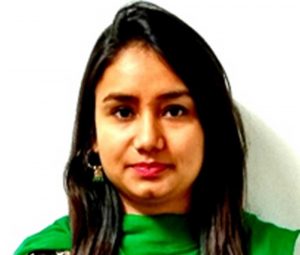 Dr.Nilofar Rasheed (PT)
Bachelor of Physiotherapy (BPT) from Jamia Millia Islamia, Delhi., Masters of Physiotherapy (MPT) Orthopedics.
5 years' Experience in Clinical and 3.5 in academics and Research.
More than 10 published paper in International and National Journals including SCOPUS, PUB MED.
Teaching and training of Bachelor of Physiotherapy (B.P.T) & Master of Physiotherapy (MPT) students
Conduction of lectures and practical sessions for B.P.T & MPT
Final year Coordinator
Preparation of question papers, practical/viva evaluation
Internship & Clinical posting in charge
Working as a Physiotherapist in Hospital (NIIMS)
Project guide for B.P.T students
Dissertation co-guide for MPH&MPT students
Excellent knowledge of related field clinical, Academics as well as research level.
Department Name
DEPT. OF PHYSIOTHERAPY
Designation
ASSISTANT PROFESSOR
Experience
6 Years
Qualification
Bachelor of Physiotherapy (BPT) from Jamia Millia Islamia, Delhi., Masters of Physiotherapy (MPT) Orthopedics.
Area of Interest
Mukloskeletal Rehabilitation, Rehabilitation in Orthopedics Condition, Clinicals as well as Research
Skill sets & Expertise
Clinical
Research and Publications (if any)
A correlational study of balance with functional independence and cognition in geriatric population (European Journal of Physical Education and Sport Science).
Role and importance of physiotherapy during palliative care in India: A Systematic review (Journal of Emerging Technologies and Innovative Research).
Effect of CPAP therapy on Catathrenia and OSA: A Case Report (Journal of Medical Science and Clinical Research).
Effect of Inspiratory Muscle Training: A Case Report (International journal of medical Science & diagnosis Research)
The Effect of Static Stretching and PNF Hold-Relax Stretching on Increasing Flexibility of Shortened Hamstring Muscle among Sedentary Living Female Students - Randomized Controlled Trial
Effects of Respiratory Therapy and Physical Rehabilitation in a Reduction of Length of ICU Stay among Covid-19 Patients – A Narrative Review
Strengthening and Mindbody Exercise for Ergonomic and stress related changes in Corporate Employee (Journal of Emerging Technologies and Innovative Research).
Comparison of Pilates Exercises and Mc Gill Exercises in Treatment of Non-specific Low Back Pain in young Adults- (Journal of Emerging Technologies and Innovative Research).
To Assess the Effects of Positioning and Early Ambulation-(International journal of scientific research (print issn: 2277-8179)
Awareness and practice of PPE use during COVID-19 among Health care personnel in India:A systemic Review(Global Journal of Medical Research: F Diseases)
Awards and Recognitions (if any)
Invitee speaker from NIU for webinar on post Covid rehabilitation
Memberships (if any)
DCPTOT Registration No- PR3900
Certifications (if any)
Participated in International conference on "-Advanced Skill in physiotherapy" held at Chitkara University, Punjab.
Member of organizing Committee in conference on "-Scientifica- Literature Review" held at Noida international University
Participated in 4th Neuro Rehab Conference of Indian Head Injury Foundation on "Developments in neuro-rehabilitation:presentin future" from 22nd – 23rd March 2014, from Indraprashtha Apollo Hospital and AIIMS department of Neurology, New Delhi
Attended hands on workshop on "GAIT assessment & training (PBWSS) in neurologicalconditions" conducted by Indian Head Injury Foundation, held on 21st March 2014
Participated in conference on "Optimizing movementtransforming society – advances in Orthopedic rehabilitation" held on 22ndAugust 2014 at Indraprashtha Apollo Hospital, New Delhi.
Attended Twodays' workshop on "Neurodevelopmenttreatment(NDT) in Pediatrics" held on 4th& 5thSeptember 2014 at Centre for physiotherapy and rehabilitation, Jamia Millia Islamia, New Delhi.
Attended Two days' hands-on workshop on "Hand & Feet – Advance Rehabilitation" held on 23rd& 26th December 2014 at Leprosy Mission Hospital & CPRS – JMI.
Attended one day hands-on workshop on "Taping Technique" held on 3rd June 2018
At Naveen Hospital, Vaishali.