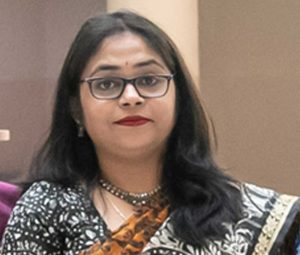 Dr. Pallavi Prakash
BPT, MPT Neurology, MBA HR
About:
Dr. Pallavi Prakash, BPT, MPT Neurology and MBA HR. Having 8.5 years' experience in different universities in INDIA, Confident with positive attitude towards the profession
Good coordination skills with teaching & non-teaching staff and national & international students, along with active participation in teaching and training of students.
Believe and interest in Evidence-based practice includes the integration of best available evidence, clinical expertise, and patient values and practice management.
Department Name
Dept. of Physiotherapy & SOAHS
Designation
Asst. Prof. cum Academic Coordinator
Experience
8.5 years
Qualification
BPT, MPT Neurology, MBA HR
Area of Interest
Neuro Rehabilitation, vestibular rehabilitation, Student grievance handling, faculty management, student coordination
Skill sets & Expertise
Good Communication skills, Evidence based Teaching and training, work well with team and individual
Research and Publications (if any)
Effectiveness of brandt-daroff exercise on hearing impaired children: A Comparative study. IJBAR, Volume 9.no.08 august 2019.

Effect of Different Home Exercises on BPPV Patients. IJPOT, Volume 13. No.1. Oct – Dec. 2019.
Comparison between different home exercise programs in patients with benign paroxysmal positional vertigo. IJRAR, volume 7, Issue 3, August 2020.
Awards and Recognitions (if any)
Member of Organizing Committee of Hands on workshop and SHARDA PT CON conference, Gr. Noida in 2017.
Award of presented a scientific paper in category neuro-sciences for 2nd runner up in International Conference & Workshops of Physical Therapy, AIIMS 2011.
Award of class MPT (2nd year) for Topper in all extremes at DIBNS, Dehradun on 2009-2010.
Award of class MPT (1st year) for First Position at DIBNS, Dehradun on 2008-2009.
Appreciation award by Special Olympics Bharat, Uttrakhand at Welhams Boys school, Dehradun on 16th Nov. 2008.
Member of the Association of Physiotherapists and Occupational Therapist, U.P.
Examiner-ship for University Exams, Answer books checking and as practical examiner for BPT & MPT.
Memberships (if any)
IAP- MIAP (L-33556)
Certifications (if any)
Advanced Diploma in Computer Application (ADCA) from vocational Training Center, Lucknow.