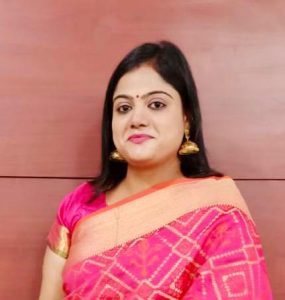 Dr. Pooja Goel
Qualification: Ph.D., MBA & M.Com
Brief Introduction:
Dr. Pooja Goel is an academician and researcher with over 14 years of expertise. She is a financial and marketing expert. She has a wealth of financial experience, having worked, researched, and lectured in the industry for many years. She is well-versed in both theory and practice. She has been exposed to a variety of situations during her job experience in the finance industry, ranging from Econometrics to Behavioral finance and Fintech services.
Dr. Pooja Goel began her career as a management postgraduate MBA in (Finances & Marketing) and then went on to get her M.Com and her doctorate in management.
She is currently employed for Noida International University, Greater Noida.
Her research publications, including Scopus papers, have been published in reputable reviewed journals. She's also attended a number of international and national conferences, as well as E-Summits, workshops, and FDPs/FIPs/MDPs/EDPs.
In 2016, Dr. Goel was awarded the Best Faculty award. On the occasion of Teachers Day on September 5, 2021, at IMS Noida, she receives the distinguished award for excellent work in the field of Higher Education and NEP-2020 from the Uttar Pradesh Higher Education Department and Chaudhary Charan Singh University, Meerut.
As a resource person, Dr. Goel shared his knowledge of building capacity programs with other business executives from diverse organizations.
Tax Planning and Management, Behavioral Finances, Investment Analysis & Portfolio Management, Financial Derivatives, Accounting for Managers, Corporate Accounts, and VAT & Service Tax are among her primary strengths.