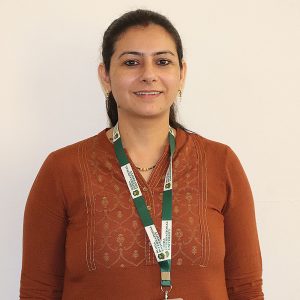 Dr. Pratibha Teotia
Associate Professor & HoD
Qualification:
Ph.D., M.Tech, B. Tech
Area of Specialization:
Biotechnology
Email:
hod.bt@niu.edu.in, Pratibha.teotia@niu.edu.in

EXPERIENCE:
Total teaching Experience: 12 Years
Since Aug 2021 working as Associate Professor and Deputy Registrar, Noida International University, Noida.
Head Department of Biotechnology, SET, Noida International University (Sep 2011-till date)
AREA OF INTEREST
Bioinformatics, Genetics, Environmental Science, Tissue Culture & Techniques, Food Biotechnology.
WORKSHOP ORGANISED
7 days' National workshop on "Synthesis of Nano particles-(7DWSN)"
https://docs.google.com/document/d/12XFnUQ_RkanEH3xSizXRSButswtAdSAu/edit?usp=sharing&ouid=114167900562495053110&rtpof=true&sd=true
WORKSHOP /SEMINAR/FDP ATTENDED
5 days FDP on "Computer Genomics Tools for next generation sequencing and biomedical data analysis", March 2022.
4 week Induction & Orientation Programme with A+ grade sponsored by Ministry of Education, Government of India, From Dec- Jan 2022.
One week FDP on Data Science and Machine Learning sponsored by AICTE, June 2021
One week FDP on Quality Engineering & Technological advances in material & devices sponsored by AICTE, March 2021
One week FDP on "NAAC-SSR Preparation" Organized by IQAC, Noida International University, October, 2020.
Phase: II of Online Short Term Training Program (STTP) on Data Science and Machine Learning sponsored by All India Council for Technical Education (AICTE) June, 2021, organized by Department of Computer Science & Engineering, Sponsored by AICTE.
6 days Refresher program on "Innovation and Creativity in Teaching & learning Process, Supported & Sponsored by AICTE and ISTE from 2nd-7th July, 2018.
PUBLICATIONS:
"In-Silico Drug Designing and Molecular Dynamics for Indian Strain of Covid-19 Target Protein from South Africa and Brazil with the Potential Drugs Proved as Good Inhibitor in China", Bioscience Biotechnology Research Communications, Print ISSN: 0974-6455 Online: 2321-4007
Study and Isolation of Yeast from Industrial Food Waste Peel and the Metal Effectiveness on Ethanol Production Using Various Metals Ions, Bioscience Biotechnology Research Communications, Print ISSN: 0974-6455 Online: 2321-4007
Antimicrobial and Antioxidant Properties of Common Indian Medicinal Plants, Bioscience Biotechnology Research Communications, Print ISSN: 0974-6455 Online: 2321-4007.
In-silico Molecular docking and ADME/Tox study on Benzoxazole derivatives against inosine 5'-monophosphate dehydrogenase, Asian J. Biotechnology 10 (1), 1-10, 2018.
A QSAR model of benzoxazole derivatives as potential inhibitors for inosine 5-monophosphate dehydrogenase from Cryptosporidium parvum.Bioinformation. 2016; 12(3): 119-123. PMID: 28149045.
"A Comparative Study on Secondary Metabolite Producing Microbes Isolated from Rhizospheric and Non Rhizospheric region of Alove barbadenis"
"In silico Identification and optimization of natural Inhibitors for drug Target Sites in Cryptosporidium parvum: A Review", ICARI-BT-16-01-104, ISBN 978-93-5156-328-0, 51
"Biofuel Production from E.coli: A Review", ICARI-BT-16-02-006, ISBN 978-93-5156-328-0,52
"Investigation and Treatment of Industrial Waste Water in a Specific Region of Greater Noida", VSRD International Journal of Biotechnology & Pharmaceutical Sciences, Vol. VI Issue, ISSN: 2278-9197
"Problems Sustainability and Potential Applications of Bio char as a Low Cost Adsorbent for Removal of Heavy Metals" National Seminar on Biodiversity Conservation Current and Future Strategies E-ISSN 2278-8808 P –ISSN2319-4766, SJIF 2016/:6.177 UGC APPROVED SR.No.45269, VOL 4, issue 34
"An In-Silico approach for structural and functional annotation of hypothetical protein fkv26_15010 of vibrio cholera 01", Uttar Pradesh Journal of Zoology, Print ISSN: 0256-971X.
Study on arsenic and alteration of carbohydrate metabolism in albino rats, Journal of Experimental Zoology, India.ISSN: 0972-0030, E-ISSN :0976-1780
Isolation and screening of soil actinomycetes as source of antibiotics, Journal of Experimental Zoology, India.ISSN: 0972-0030, E-ISSN :0976-1780
Recent trends of biodegradable food packing polymer films, Advanced Scientific Research, ISSN: 2456-7744
Extraction of Bioactive Compound from Actinomycetes, Journal of Emerging Technologies and Innovative Research, ISSN-2349-5162
Comparative Antimicrobial Study Of Different Toothpaste Against Pathogenic Bacteria, Journal of Emerging Technologies and Innovative Research, ISSN-2349-5162
Problems Sustainability and Potential Applications of Bio char as a Low Cost Adsorbent for Removal of Heavy Metals: A short Review, Scholarly Research Journal for Interdisciplinary Studies, E-ISSN 2278-8808 & P-ISSN 2319-4766, SJIF 2016: 6.177
Biofuel Production from E.coli: A Review, International Journal of Advance Research and Innovation, ISSN 2347 – 3258.
Smart Grain Storage Management System Using IoT for India, The International Journal of Analytical and Experimental Modal analysis, ISSN No: 0886-9367.
An Overview of food Consumption Methods by the people living in India and the Impact of Processed Food in Human Health, The International Journal of Analytical and Experimental Modal analysis, ISSN No: 0886-9367.
Identification of Escherichia Coli dedA Protein similarities with Different Organism Including Green Algae, Our Heritage, ISSN: 0474-9030.
Computer applications in bioinformatics by using different biological datasets, VSRD International Journal of Technical & Non-Technical Research, e-ISSN: 0976-7967, p-ISSN: 2319-2216.
Bioremediation of Heavy Metals-Contaminated water using bacteria and Study of Bacterial Metallothioneins, Our Heritage, ISSN: 0474-9030