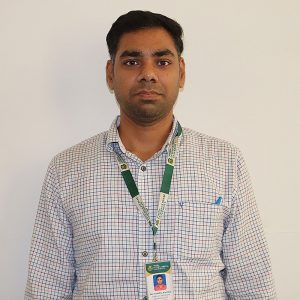 Dr. Pushp kumar Baghel
Assistant Professor
Qualification:
Ph.D, M.Tech
Area of Specialization:
Production Engineering
Email:
pushpkumar.baghel@niu.edu.in
EXPERIENCE:
Total teaching Experience: 10 Years
Pushp Kumar Baghel has graduated from Uttar Pradesh Technical University, Lucknow and went into pursue masters from Jamia Millia Islamia, New Delhi. He has Done Doctor of Philosophy from Delhi Technological university, Delhi. Currently he is associated with Noida International University, Noida as Assistant Professor in Mechanical Engineering from 21/11/16 to till date. Previously he has worked in JSS academy of technical Education, Noida as Assistant Professor and in Delhi Technological University as research fellow. He has more than nine publications in various international journals and conferences
AREA OF INTEREST
Welding Technology, Application of DOE and soft computing techniques
WORKSHOP /SEMINAR/FDP ATTENDED
Done two days course on Solar Energy at Solar Energy Centre (MNRE, Govt of India)
Done two days' Workshop on Recent Trends in Welding Technology in DTU, Delhi
Participate at International Conference at Noida International University
Done one week FDP on Precision Manufacturing and Circular Economy in DTU, Delhi
Done one week FDP on Ethics and values in Technical Education in context of National Education Policy 2020 in DTU, Delhi
Publications in International Journals
P.K Baghel and D.S Nagesh. "Some studies on mechanical properties and microstructural characterization of automated pulse TIG welding of dissimilar aluminum alloy ''. Indian Journal of Engineering and Material Science. (2018) SCI, IF 0.88
P.K Baghel and D.S Nagesh. "Influencing and Analysis of TIG welding process on mechanical properties of extruded aluminum parts''. Transactions of the Canadian Society of Mechanical Engineering (2017) SCI , IF 1.450
P.K Baghel and D.S Nagesh. "Pulse TIG welding: Process, Automation and Control". Journal of Welding and Joining (2017)
P.K Baghel and D.S Nagesh." Multi attribute assessment of consumables for TIG welding of Aluminum alloys". International Journal of Manufacturing Engineering, (2016).
P.K Baghel. "A review of Pulse Gas Tungsten Arc Welding of Different alloys''. International Journal of Advanced Research and Innovation (2013).
P.K Baghel. "Effect of welding parameters of Gas metal arc welding on weld bead geometry: A Review". International Journal of Engineering Science and Technology (2012).
P.K Baghel."Friction Stir Welding of Stainless Steel 304: A Survey" . IOSR Journal of mechanical and civil engineering (2012).
P.K Baghel and Arshad Noor Siddiquee. "Design and Development of Fixture for Friction Stir Welding". Journal of Innovative System Design and Engineering,USA(2012).
Research Papers in Conference Proceedings
Pushp Kumar Baghel, Design and Development of Automated Manipulator in TIG welding, International conference on Innovative Technologies in Mechanical Engineering (ITME), Krishna Institute of Engineering and Technology, Ghaziabad, 2019 (Scopus )