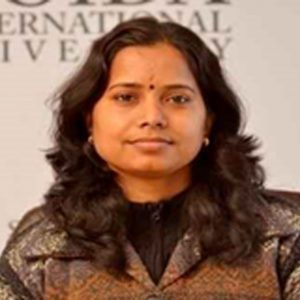 Dr. Shailesh Solanki
About:
Dr. Shailesh Solanki is an environmentalist working in Noida International University as associate professor in Department of Agriculture and environmental Sciences and green core committee member. Dr. Solanki worked on major proponent of the Green concept of sustainable development. She always prefers the best ways to preserve the environment and protect it from pollution and other contaminants. She completed a project doubling of income for welfare of farmers in Gautama Buddha Nagar.
Experience:
Dr Solanki has fourteen years experience for the field of sustainable environment. She worked on different ways to removal of water pollution, protected cultivation and sustainable environment.
Qualification:
Dr Solanki completed her doctorate from Dr. Bhimrao Ambedker University Agra, in Water pollution. She completed Masters Degree in Fisheries Science.
Award & Recognition:
She received best scientist award for the project of "Paddy come fish culture" for doubling of income and farmers welfare.
Research:
Dr Solanki published many research papers in reputed journals in field of sustainable environment and medicinal value plants.
Area of Interest:
Sustainable environment, Green technology, protected cultivation and medicinal value plants important.