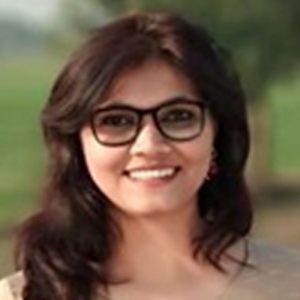 Dr. Shilpy Singh
Doctorate in Plant Biotechnology
About: Dr. Shilpy Singh, Assistant Professor of Biotechnology in the Department of Biotechnology and Microbiology, Noida International University, Gr. Noida.
Experience: Assistant Professor, Biotechnology (July, 2019- April, 2020) at Mangalmay Institute of Management and Technology, Gr. Noida
Qualification: Doctorate in Plant Biotechnology from Sardar Vallabhbhai Patel University of Agriculture and Technology, Meerut
Award & Recognition:
Young Fellow Award-2017- In the field of Biotechnology on the occasion of Global Meet on Science and Technology for ensuring quality life (GMST-2017) held during 26th Nov'17 –30th Nov'17 at Kuala Lumpur, Malaysia.
Young Researcher award-2017 - In National Conference on Promoting and Reinvigorating Agri- Horti, Technological Innovations (PRAGATI-2017) from 11th Nov'17 -12th Nov'17, organized by Academy of Environment and Life Sciences, at Sambodhi Retreat, Dhanbad, Jharkhand.
Poster Presentation Award- Poster Presentation on the topic entitled "Nano-curcumin combats oxidative stress induced by combined treatment of Arsenic and Fluoride" in 31st Annual Conference of Society of Toxicology (STOX), India & International Symposium on Current Trends in Environmental Toxicology in Dec'11.
Research:
Isolation and characterization of MIKC-type MADS-box genes in Petunia
Certifications:
Training at DRDE, Gwalior
Jul 2011 - Nov 2011
On the topic entitled "Nanocurcumin Protects Arsenic and Fluoride Induced Oxidative Stress in Rats" under the supervision of Dr. S.J.S. Flora, Scientist "G", Pharmacology & Toxicology Division.
Area of Interest:
Plant Molecular biology, Plant tissue culture, Genetic Engineering, Abiotic stress, VIGS, Role of TFs in flower development and senescence, Genome wide analysis