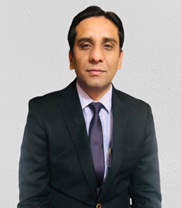 Dr. Shiv Kumar
About:
Dr. Shiv Kumar is a versatile academic administrator with total quality experience of 14+ years in Industry & Academics, Presently working as Associate Professor and Head of Department (HoD) -School of Business Management (SBM) at Noida International University, Greater Noida. He worked in diversified areas in IT and telecommunication companies such as SAP Functional consultant, senior software engineer in US Based NTT Data Global Delivery Services company, Business Development Manager in Precedence Technologies, an ICT company as well as worked as Area Sales Manager in Tikona Digital networks, an internet service providing company.
Qualification:
PhD (Management), Noida International University, India
MBA (IB), University of Southern Queensland, Australia
B., CCS University, Meerut, India
Bachelor of Engineering in Computer Science Engineering (CSE), VTU, Bangalore
Experience (14+ Years):
In Academia (9+ years)
Associate Professor, School of Business Management, (Sep. 2020 – Present)
Head of Department, School of Business Management, (April 2018 – Present)
Assistant Professor, School of Business Management, (Jan. 2013 – Aug. 2020)
In Industry ( 5 years)
SAP SD Functional Consultant, NTT Data Global Delivery Services, Bangalore,
Area Sales Manager (ASM), Tikona Digital Networks, New Delhi,
Business Development Manager (BDM), Precedence Technologies, Bangalore,
Software Engineer, Raltronics India, Noida,
Award & Recognition:
Chaired Technical Session on International Conference at Punjab University by Conference World, 19th August 2018
Corporate Training Provided: 01 (For Teesta Urja Hydro Power Project Employees- Sikkim, India)
04 - PhD Awarded under the supervision
02 - PhD Submitted under the supervision
Area of Interest:
My research interest includes to focus on operationalization of public policies and to identify pitfalls in these policy for the better healthcare of poor people in India.
Research:
PhD Completed on A Study of Challenges and Limitations of "Rashtriya Swasthya Bima Yojana" (RSBY) or the "National Health Insurance Program (NHIP)" with special reference to Gautam Buddh Nagar District, Uttar Pradesh, India
Articles/Papers Published: 14
Conference Attended & Conducted: 05 & 03
Workshop/Seminars: 15
Certifications:
Scrum Guide Training and Certificate containing the knowledge about product owner, scrum master & agile scrum framework
JIRA tool training & Certificate
Certified Associate Consultant- SAP SD from SAP Germany, 2012