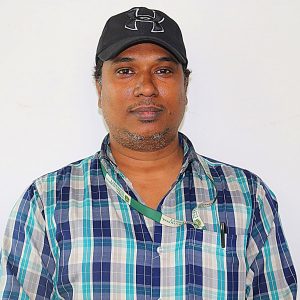 Dr. Varun K Sharma
Ph.D. in Molecular Oncology, University of Padova, Italy
About
Dr. Varun Kumar Sharma is currently working as a Head of the Department of Biotechnology and Microbiology, School of Sciences (SOS), NIU. Dr. Sharma has joined NIU as an Assistant Professor, after completion his tenure as a postdoctoral research fellow in molecular immunology from the National Institute of Health and Medical Research (INSERM), Paris, France.
Dr. Sharma has received his Ph.D. degree in Molecular Oncology from the University of Padova, Padova, Italy. Prior to that, He has worked as research fellow at the CSIR-Centre for Cellular and Molecular Biology (CCMB), Hyderabad, India. Dr. Sharma has twelve years of research experience and he has worked with various international recognized organization from different countries including India, Italy, France, Switzerland, Germany and other European nations.
Dr. Sharma have received several international fellowships and scientific awards. He has published more than 30 research articles in peer-reviewed international journals such as Scientific Report, Cellular and Molecular Immunology, Frontiers in Immunology, Frontiers in Microbiology, Journal of Neuroinflammation, Journal of Virology, Cell Death and Disease, European Journal of Human Genetics, Journal of Nucleic Acid, PLoS ONE and others. He has also publish 2 book chapters and edited 2 books focused on Biotechnology. He is continuing his research in molecular Cancer biology, Immunology, Epigenetics, Infection biology, epidemiology and other biomedical area. He is invited member of several scientific committee and active reviewer of many publication agencies, such as current science, PLoS ONE, Virus diseases and others.
Experience: 12 years (Research and Teaching)
Award & Recognition:
Funding received from Department of Biotechnology and SERB, Department of Science and Technology, Govt. of India, for organizing the three days Conference on Translational (Engineering) and Regenerative Medicine dated 21-23rd January 2020.
Postdoctoral research fellowship (two years) supported by INSERM (Institut national de la santé et de la recherche médicale, Paris, France.
Postdoc research fellowship (one year) supported by Associazione Italiana per la Ricerca sul Cancro, Verona, Italy.
International Ph.D. program fellowship (three years) supported by the Fondazione Cassa di Risparmio di Padova e Rovigo (CARIPARO), University of Padova, Italy.
EMBL/EMBO travel grant to attend the EMBL Symposium on the "Complex life of mRNA", Heidelberg, Germany.
Epigenomics sumit-2015, July 13, 2015, held at Pasteur Institute, 25-28 Rue du Dr Roux, Paris, France.
Gloabal Virus Network – Italia, October 17, 2013, held at Fondazione Pascale, Napoli, Italy
The Complex Life of mRNA_EMBO|EMBL Symposium -2012, October 07-10, held at EMBL Heidelberg, Germany.
Viruses, Genes and Cancer -Venice meeting-2012 (October 25-27, 2012), held at Venice, Italy.
Research:
Epigenetic regulation in autoimmune conditions.
Molecular characterization of aureus enterotoxin gene in different food specimens.
Genetic variation among Plasmodium falciparum antimalarial drug resistance gene.
30 publications
2 edited Books
3 Book chapters,
10 scientific presentations at International Conferences
Certification:
Area of Interest
Molecular Biology, Cancer biology, Immunology, Epigenetics, Infection biology and other biomedical area