IBM INNOVATION CENTER FOR EDUCATION (ICE)
A digital badge is a cross-industry digital recognition of technical skills which can be posted on to your social and professional networking sites, as well as your digital signature.

IBM, together with leading universities the world over, is offering a series of technology courses and programs through the IBM Innovation Center for Education. The program offerings are industry-aligned, and the courseware has been redesigned from the ground up, with a state-of-the-art delivery mechanism to enable students to learn industry-relevant skills.

The Students get hands-on learning opportunities, guest lectures by industry experts, online labs, events on and off campus and much more to keep learning fun, productive and engaging while infusing deep skills for the professionals of the future.

On successful completion of the Program, the Student becomes eligible for an IBM digital badge.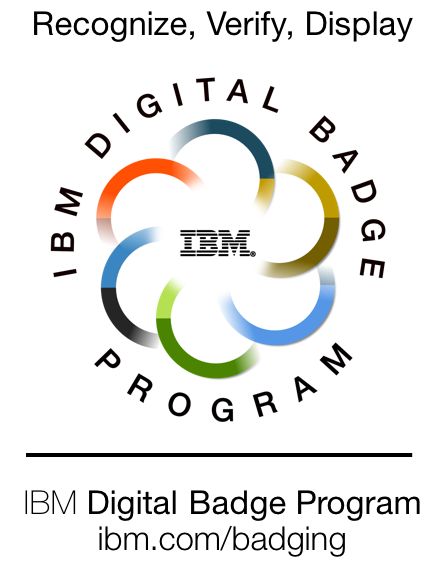 The IBM ICE Digital Badges are a new online standard to recognize and verify skills acquired throughout the learning process. Each badge contains verified metadata describing your qualifications and the rigorous process necessary to earn them. A Digital Badge can be posted on Social and Professional Networking sites as well as in one's digital signature.
IBM ICE Digtial Badges provide you with significant benefits
Digital version of your credentials.
Recognition of industry aligned skills
Globally recognized standard
Free access to a badge wallet for easy management of your badges
Secure and verifiable means of storing and publishing your credentials
Digital version of your credentials
Integrated Specialization Courses