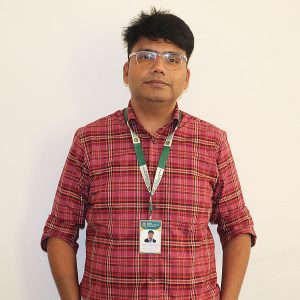 Mr. Abhinav Srivastava
Assistant Professor
Qualification:
TESOL (Teaching English as a second official Language) M. Com, PGDM (Marketing &Finance), MBA (Marketing & HR)
Area of Specialization:
English Communication, Business Communication, Softskills, Marketing and Entrepreneurship.
Email:
Abhinav.srivastava@niu.edu.in

EXPERIENCE:
Total teaching Experience: 12Years
Since Feb 2015 working as An Assistant Professor & Communication Trainer, Noida International University, Greater Noida.
Mr. Abhinav Srivastava, having 12 years of Experience in Teaching and Training and trained approx. 10k students of Engineering, Management and other Programs. In University he is giving training to the students of B. Tech, BCA, B.Sc., BFA and Medical students.
His Academics and Professional qualification are MBA (Marketing & HR), PGDM (Marketing & Finance), M. Com, BBA.
He is TESOL (Teaching English as a second official language) qualified and internationally certified by TESOL Canada, Training Qualification UK and All India Council of Education.
He has participated as a key note speaker in various conferences i.e., Philippines, Romania, Turkey etc. and numerous FDPs, National & International Seminars.
He is the recipient of "Shiksha Ratan Samman Award "in 2021 for their contribution in development of Education.
AREA OF INTEREST
Communication Skills
Soft Skills Training
Entrepreneurship
Marketing and Management
WORKSHOP /SEMINAR/FDP ATTENDED
Participated as a key note speaker in IIU- Quick initiative organized by International Internship University, Indonesia 16-19th November 2021
FDP on Emotional Intelligence from 15 /11/2021 to 19/11/2021 at JNTUA College Of Engineering, Ananthapuram.
FDP on Cyber Security from 08/11/2021 to 12/11/2021 at National Institute of Technology, Nagaland.
Participated in National Seminar "Act Responsible, Think Sustainable", organized by Indian Institute of Management (IIM) on 27th October 2021.