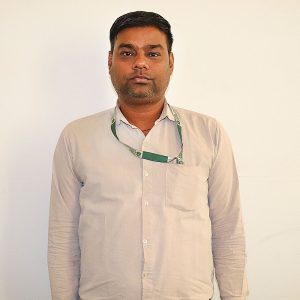 Mr. Rakesh Kumar
Assistant Professor
Qualification:
M.Tech
Area of Specialization:
Power System
Email:
EXPERIENCE:
Total teaching Experience: 10 Years
Since September 2016 working as Assistant Professor, Noida International University, Noida.
AREA OF INTEREST
Control System, Power Electronics, MatLab
PUBLICATIONS:
National Publications
[1] "Simulation of Micro grid Connected Solar PV Array."
[2] "Advanced Solar Power LED Street Lighting with auto intensity control."
[3] "Solar Cell array Modeling & its Grid Integration."
[4] "Maximum Power Point Tracking (MPPT) Solar Charge Controller."
[5] "Power Generation from Law grade waste heat using Thermoelectric
Generator."
FDP ATTENDED
Attended National Conference 'Spectrum of Information Technology Developments at India's Prospective' SIT@IP-2012 held Baba Budha College, BIR Sahib, Trantaran.
Attended FDP (Online) on 'Green Technology and Sustainability Engineering' at Kolhapur Institute of Technology, Kolhapur Maharashtra.