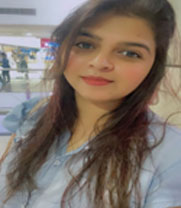 Ms. Jyoti Chaudhary
Assistant Professor
Qualification: M.Tech, B. Tech
Area of Specialization: Biotechnology
Email: jyoti.chaudhary@niu.edu.in
EXPERIENCE:
From JUNE 2014 to Nov 2015: HEAD OF MOLECULAR LAB in Department of MOLECULAR BIOLOGY in YASHODA HOSPITAL, GHAZIABAD
From Aug 2015 to Nov 2017: Assistant Professor in Department of Biotechnology in NIMT institute of Medical & paramedical sciences, Greater Noida.
From June 2015, to Nov 2017: Handle the responsibility of Administrative Head in NIMT Greater Noida such as Admission, student's affairs discipline and academic progressed.
From 1st Dec 2017, to Till Now: Working in Noida International University as Asst. Professor
AREA OF INTEREST
Genetic Engineering, Genetics, molecular biology, Tissue Culture & Techniques, biochemistry.
PUBLICATIONS:
Published one research article on "cloning and expression of mazf gene and its effect on the growth of Coli.", gautam buddha university, greater noida (2013).
Assessment of the impact of structured training program on knowledge and attitude of Indian grade schoolers regarding precautionary guidance and safety measures for covid-19- a comparative study. (2021)
Detection of mycobacterium tuberculosis DNA in sputum samples with mpb 64 gene primers using polymerase chain reaction. (2018)
A study to assess the knowledge of mothers regarding reproductive child health program activity and its utilization in selected urban community. (2019)
PROMOTION
Promoted to assistant professor level 11 by CAS UGC with increment.
CERTIFICATE
Certificated by Workshop of Entrepreneurship Development Program by National Small Industries Corporation NSIC (2012)
Certificated by National social services in 2009 and 2010(2 years).
Certificated by Scientifika International Research Symposium as Organizing Committee member in 2018
Certificated by Surgical Strike Day as Organizing Committee member in 2018
Certificated by Seminar on Intellectual Property Rights as Attending Member in 2018
Certificated by World Mental Health Day as Organizing Committee Member in 2018
Certificated by Can support And Institute Rotary Cancer Hospital AIIMS as Attending Member in 2018
Certificated by Bhagwant Buddha Charitable Blood Bank as Camp Organizer in 2018