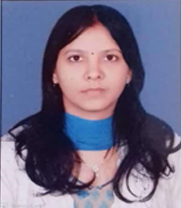 Ms. Rashi Singhal
Assistant Professor
About
Working as Assistant Professor in Noida International University for the past four years. I am a self-starter with strong interpersonal skills. I work efficiently both as an individual contributor as well as along with a team. I seek new challenges and try to think out-of-the-box while looking for creative solutions to a given problem. I believe in character, values, vision, and action. I am a quick learner and believe in learning from my mistakes for I strongly feel that this virtue will take me ahead in life and career.
Experience
Total 21 years of experience in the field of academics. Previously associated with universities like Banasthali University, Rajasthan, Amity University, Noida etc.
Qualification-
B.Com, M.Com, MBA, UCG-NET, PGDCA
Award & Recognition- NA
Research-
Total 8 research papers were published
Certification-
One week online certificate course in "Digital Teaching Techniques" organized by ICT Academy.
Area of Interest-
Marketing, Economics and International Business