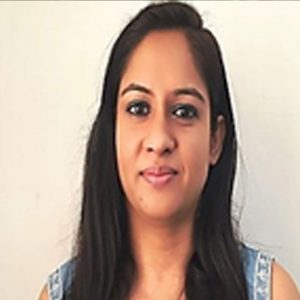 Ms. Sapna Kataria
B.Tech-CSE & M.Tech- CSE
About: - Ms. Sapna kataria has completed her B.Tech in Computer Science & Engineering from Kurukshetra University in 2011. She has completed her M.Tech in Computer Science & Engineering from The Northcap University in 2016. She has Eight years of Teaching Experience in various prestigious universities and colleges.
Experience: -
Currently working as Assistant Professor (computer science engineering) in Noida International University since September, 2016.
Worked as Assistant Professor in ODM Institute, Gurgaon from July 2014 to July 2016.
Qualification: - B.Tech-CSE & M.Tech- CSE
PROFESSIONAL SKILLS:
Tools: MS Office, WEKA, MATLAB
Programming Languages-C, C++, PYTHON
Databases – SQL, Oracle
Web/Internet Technologies – HTML, XML
Award & Recognition:-
Certificate of two days international conference on "EMERGING TRENDS IN SCIENCE ENGINEERING & TECHNOLOGY (ICETSET-2018)" at Accurate group of institution in knowledge park, greater Noida, 2017.
Certificate of 2 days' Workshop on "ANDROID", Sponsor by APPLE Solution Expert Education in Noida International University, 2016.
Certificate of two days seminar on "image processing and optimization techniques" at Amity school of engineering and technology, New Delhi, 2015.
Certificate of 5 days faculty development program on "Artificial intelligence & Machine learning: Interdisciplinary approach for applications" on 12th to 16th June, 2018 in ABESIT college Ghaziabad.
Certificate of LECTURE delivery in seven day workshop on "MICROSOFT EXCEL" held during 13th to 19th April, 2018 in NOIDA INTERNATIONAL UNIVERSITY
Research:-
Sapna kataria, Poonam singh, Mrs. Prachi Ahlawat(2014) "Survey Paper on Wireless Underground Positioning System" published in "International Journal of Computer Applications (IJCA)" with ISSN no. 0975-8887, volume 3.
Sapna kataria, Ms. Meghna Sharma (2015) "Predictive Analysis of Student Performance and Outlier Detection" selected in INTERNATIONAL CONFERENCE on "Innovative Research in Computer Science, E-Learning, and Information & Communication Technology" (CSIT– 2016); published in Journal of basic and applied engineering research p-ISSN: 2350- 0077; e-ISSN: 2350-0255; volume 3, issue6; April-June, 2016, pp. 528-531.
Certifications: - Certification in Python for Data Analyst
Area of Interest: - Artificial Intelligence and Data Science