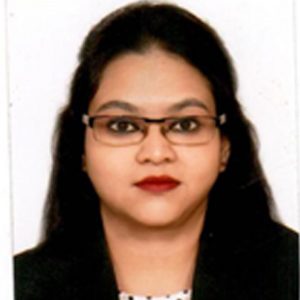 Ms. Shusneha Sarkar
Assistant Professor in Law
About:
Her career objective is to explore the avenues in the field of law with an aim to gain an experience, expertise in the field of IPR and to exploit the same with the concrete approach, to work in the competitive environment and sharpen abilities to become an asset for the organization.
Experience:
7 plus years in the field of academics.
Qualification:
BA LLB (Hons) from University of Calcutta, LLM with specialization in Intellectual Property Rights from Hidayatullah National University, Raipur, Ph.D. (pursuing) in Intellectual Property Rights from Noida International University.
Award & Recognition:
Organized various inter-school Legal Quiz Competitions, Debates, Moot Court Competitions, Legal Aid Camps, Workshops, moderated several Webinars, Judged 2 National Level Moot Court Competitions.
Research:
Ph.D. Thesis in regard to Traditional Knowledge under IPR under progress & submitted a Dissertation (Thesis) for the completion LL.M. on the topic– "A Pivotal Role Played by TRIPs in Shaping the Patent Laws in India", 2015.
Certifications:
8 Paper Publications in Journals & Book Chapters, 12 Paper Presentations in National & International Seminars & Conferences, 23 Faculty Development Programmes, Refresher Courses, Faculty Induction Programmes, 2
Area of Interest:
Intellectual Property Rights, Personal Laws, Law of Torts, Law of Contract, Theories of Jurisprudence, Laws relating to Women & Children, Human Rights, Environmental Laws, etc.