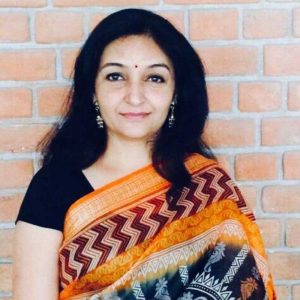 Prof. (Dr) Aparna Sharma
Dean -School of Liberal Arts
About:
Educational Professional, designated as Dean, School of Liberal Arts, Noida International University, Noida. Prof. Sharma has 18 years of experience during which she has served in various capacities at Amity University, Noida, ICFAI University, Dehradun, NAS Degree College, Meerut, etc. She is Life Member of 'Indian History Congress' and Executive Member of Centre for Gender Studies, Patna.
Experience: 18 years
Qualifications:
MA (English), MA (History), MBA, LLB, PhD.
Research:
Invited Speaker/Resource Person/ Chairperson/ Guest - 23
Papers published - 25
Papers presented in Seminars & Conferences - 43
Books published:
Amir Khusrau The Embodiment of Spiritual Bliss, Gulshan Books, Kashmir, ISBN: 978-81-8339-385-0
Ethics: A Savoir Faire, Patridge India, ISBN: 987-1-4828-5835-8
Samaychakra (Hindi Poetry Book), Authors Press, Hauz Khas, New Delhi ISBN 978-93-89110-02-9.
Certification:
Certificate Course "Critical Thinking in Global Challenges", from, The University of Edinburg, U.K.
Short term Course
On Gender Sensitization organized by UGC HRDC, JNU New Delhi from 17 -21 December 2018.
03-30 July 2013 at UGC-ASC, Kurushetra University, Kurushetra.
"Communication Skills and Soft Skills for Teachers" organized by Academic Staff College BPS Women University, Sonipat, from 5-11 Feb'13.
Areas of Interest:
Indian History, English Literature, Communication Skills, Women & Law, Interdisciplinary Studies.