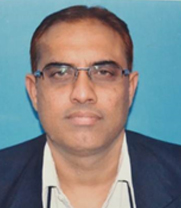 RAHUL KAPOOR
Assistant Professor
About:
A seasoned professional with around 22 years of experience in industry and academia. An individual is a sum total of his/her experiences. I firmly believe that honest efforts can take an individual to unexpected heights. I practice punctuality and committed to my chosen profession. It is often said that to turn dreams into reality, one needs vision, commitment, perseverance and knowledge. I try to always give my best to satiate my creative aspirations and thus contribute to society in a little way.

Academic Experience:
Working as a Faculty- International Business & Marketing with Noida International University since September, 2017
Worked as a Visiting Faculty and took sessions on Marketing, International Business and Business Laws.
Worked from October 2013 till October 2016 with Asian Business School, Noida as Assistant Professor – Marketing Area
January 2011 till October 2013 SIMS(Shiva Institute of Management Studies, Ghaziabad), India , Assistant Professor- Marketing
1998-99 IPM, Meerut, India Lecturer-Business Communication
Research/Publication:
I have successfully published six research papers in conferences/journals of repute. My research area includes pharmaceutical marketing, consumer behavior, branding etc.
Industry Experience:
2008-2010 Reliance Communications Limited, Delhi as Sr. Manager – Key Accounts, Enterprise Division, handled end to end Data & Voice solutions.
2007-2008 Intex Technologies Limited, Delhi as Regional Sales Manager – Enterprise, handled IT hardware products catering to large enterprises.
2003-2007 Godrej & Boyce Manufacturing Co. Ltd, Delhi as Deputy Manager - Prima Division, handled the sales and service of Xerox & Konica Minolta range of OA products.
1999-2003 Methodex Systems Limited, Delhi in various capacities. Handled OA products catering to large enterprises & SME's.
Qualification:
Pursuing PhD in Management from Jaipur National University, Jaipur
1996-98 PGDM- Two years Full Time, Approved by AICTE (With Concentration in Marketing & Human Resource Management, IMS SRMSCET, Bareilly, India
1993-96 LLB (Bachelor of Law) Bareilly College, Bareilly (Rohilkhand University, Bareilly), India
1990-93 BA (Bachelor of Arts) Bareilly College, Bareilly (Rohilkhand University, Bareilly), India
Mentoring / Training:
Conducted Marketing workshop entitled "Sales and Effective Selling Techniques" for senior batch PGDM students in 2015-16
Mentored three batches of PGDM students on "Skill Development and Domain Knowledge" aligning the same with their final placements.
Delivered a talk on "Leadership" to the employees of Punjab National Bank at Staff Training College, Dehradun
Delivered a lecture / talk on "Branding and its Significance" in Masters School of Management, Meerut
Trained Sales professionals on Leadership, Key Accounts Management & Communication Skills during my association with Industry.
Area of Interest:
My area of interest is Marketing and its sub domains like advertising and brand management, e-commerce, consumer behavior, retail management, sales and distribution management etc.