The School of Business management, NIU organized a Knowledge sharing session in the form of webinar on Management of Intellectual Properties in Universities on 10th March, 2022 at 2:30 PM.
Dr. Yashavant Dev Panwar, Scientist and Head of facilitation Center of Department of Science and Technology – Government of India, was the key speaker for the session.
This webinar covered different aspects of Intellectual properties as patents, trademarks, copyrights, industrial designs etc. Around 71 participants have joined the webinar across the Noida International University.
The session commenced with the welcome speech and introduction of Guest speaker by Dr. Yamini Pandey, Associate Profesor – SBM (Moderator) and technical support was provided by Ms. Himani Kargeti, Assistant Professor – SBM.
The primary goal of this session was to create awareness about Intellectual properties and the mechanism of filing a patent. The guest speaker has talked about nurturing the idea and converting into a product and taking them to the final stage of commercialization. Further he added that nurturing idea and conversion of that is not an easy task but unlocking the ideas through Intellectual property rights will be helpful. He Explained that as a researcher, students, entrepreneur and society as a whole, everyone needs to understand how one can unblock that. In this current scenario, we need to excel in Intellectual property development.  In addition to this the expert for the session has elaborated the different types of Intellectual property rights and gave the detailed information about filing a patent through academic Institute.
At the end of the session Prof. (Dr.) Ruchika Gupta , Director – SBM has delivered the vote of thanks and present the E- memento  to the distinguished Guest for the session.
The wholes session was so relevant and insightful for all the segments of audience i.e.  students, scholars and academicians.
Brief Profile of Speaker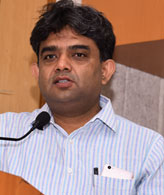 Dr Yashawant Dev Panwar
Scientist F and Head PFC
Yashawant Dev Panwar is Ph.D. from IIT Delhi in Management of IPR. He also holds degree of M. Tech in Future Studies and Planning from Devi Ahilya University, Indore and M.Sc. Physics from MDS University, Ajmer, Rajasthan specialised in Microwave Electronics and.
He is presently Scientist F and heading Patent Facilitating Centre (PFC) of Technology Information Forecasting and Assessment Council (TIFAC). He has been working for more than 23 years for PFC in different capacities.  PFC has been facilitating filing of patent applications on behalf of academic institutions and government R&D institutes, creating awareness about IPR in different part of the country, proving policy input to the government and also patent information. He has taken as well conducted number of trainings on IPR, patent searches and other IPR and WTO issues.
He contributed in evolving the important programme of DST, WOS-C popularly known KIRAN-IPR at all stages, TIFAC received Nari Shakti Purashkar 2015 for this programme.
He performed internship on Technology Transfer at National Institute of Health (NIH), USA and also taken training at EPO and JPO. His active area of patent/IPR related research are Standards & Patents, forecasting future skills based on patents data, new foresight methodologies-based patent information and AI & Patents etc.