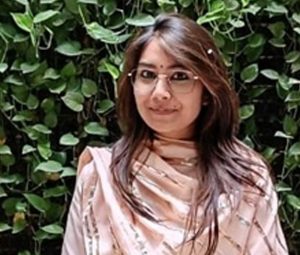 TANIKA CHATURVEDI
M.Sc. IN RADIOLOGICAL IMAGING TECHNIQUES
About:
I AM HAVING EXPERIENCE IN HANDLING PATIENTS IN CRITIAL CONDITIONS. I AM MENTOR OF STUDENTS AND COORDINATES WITH ALL THE POSSIBLE CHALLENGES.
Department Name
DEPARTMENT OF RADIOLOGY
Designation
ASSISTANT PROFESSOR
Experience
2 YEARS 7 MONTHS
Qualification
M.Sc. IN RADIOLOGICAL IMAGING TECHNIQUES
Area of Interest
RADIATION PROTECTION AND CONVENTIONAL MODALITIES
Skill sets & Expertise
MAMMOGRAPHY AND PATIENT HANDLING
Certifications (if any)
• ATTENDED NATIONAL CONFERENCE ON "BEST HEALTH CARE PRACTICE BY ALLIED HEALTH PROFESSIONALS IN MODERN ERA" BY MED SKILL DEVELOPMENT EDUCATIONAL SOCIETY.
• ATTENDED NATIONAL CONFERENCE ON "TECHNICAL ADVAMCEMENT AND FUTURE PROSPECTS IN IMAGING TECHNOLOGY"
• ATTENDED A CME ON "THE ROL OF RADIOLOGICAL PROFESSIONALS IN DIGITAL AGE".