Report On Fynergy- Finance Quiz under Finance Club
Date- 02/06/2022           
School of Business Management organized an Fianace Quiz- "Finergy" on 2nd June 2022 under the Finance club activity. This Quiz has been organized in 4 rounds logo, slogan, financial awareness and rapid fir round.
 Form of game or mind sport, in which the teams attempt to answer questions correctly. It is a game to test your knowledge about a financial literacy. School of Business Management always thrives to cater to the all-round development of their students. . With this intention in mind an Inter House Finance Quiz was held for the students of at AB004, Academic Block, from 2:00 PM to 4:30 PM for the students of BBA/BBAMBA/BCOM(H) & BA(ECO).
The event was conducted to understand the financial awareness among students and wealth of India and the various cultures involved in it. The program was well organized by School of Business Management and coordinated by Ms. Archana Kumari and Mr. Rahul Kapoor, Assistant Professor.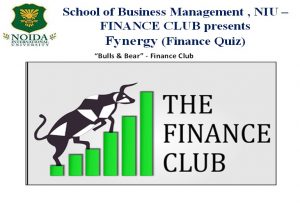 There were 18 students from BBA, BBAMBA, BCOM(H), MBA, MCOM participated in this event with great enthusiasm. The winners of this quiz (Team –A) were:
1
Ankit
MBA-1st Year
Team-A
2
Kalyani Bhatt
MBA-1st Year
3
Deepak Kumar
MBA-1st Year
4
Prashant Giri
MCOM-1st Year
5
Sudhanshu
DFM-1st Year
6
Mahima
DFM-1st Year