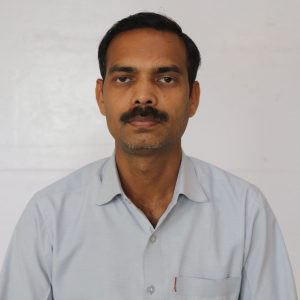 Dr.Umesh Chandra Nayak
Associate Professor
Legend:
Dr. Umesh Chandra Nayak received his PhD degree in Fine Arts from the Dr. B R A University, Agra, Uttar Pradesh in 2017 and earlierhe had done Master Visual Arts (Sculpture) from Dr. B R A University, Agra, Uttar Pradesh in 2004and Bachelor Fine Arts (Sculpture) from Utkal University of Culture, Bhubaneswar Odisha in 2002.
Research Interests:
The major focus has been in Visual arts like contemporary art, rural art, traditional art, handicrafts, archaeological art, and art history.
Courses Taught:
Sculpture, Photography, Mural, Art History, Aesthetics to UG, PG students
Ongoing Projects: Rural (Tribal Community) art and language in Eastern Odisha.
Patents granted/Applied for: NA
Selected Publications:
[i] Research papers: (OLD)
SITABINJI: RUINED HERITAGE SITE OF ODISHA
Volume 6, Issue 6 (June, 2017) UGC APPROVED Online ISSN-2277-1182
Published by: Abhinav Publication
Abhinav National Monthly Refereed Journal of Research in Arts & Education
CLAY SCULPTURES FOR WORSHIP IN EASTERN ODISHA (AN INDIGENOUS SACRED CRAFTSMANSHIP IN CLAY)
International Journal of Current Research
ISSN: 0975-833X
Vol. 11, Issue, 02, pp.1787-1791, February, 2019


METAL BOWL MAKERS (KANSARI) IN AN EASTRN ODISHA
International Journal of Current Research
ISSN: 0975-833X
Vol. 10, Issue, 07, pp.xxxxxxx, July, 2018

PRIMITIVE ART: PAINTED ROCK WALLS IN ODISHA
International Journal of Development Research
Vol. 10, Issue, 01, pp.xxxxxxxxxx, January, 2020
ISSN: 2230-9926
[ii] Books: Sub Editor (Jodan Alagn)
Professional Affiliations
Vice President, Young Hearts (Dedicated to the Creator) (YH)
Director, Member of Utkalgarh Festival, Odisha
Recent Awards/Achievements:
BHUBANESWAR KALA SANMMAN-2019 , Odisha 2019
'ART MODA' case award for all India painting contest , New Delhi 2011
I.F.A.C.A. award for sculpture New Delhi. 2002
First award in Visual art Dr. B.R.A. University, Agra U.P. 2004
First award in visual art (College painting) in Kurukshetra University, (HR). 2004
Best Fourth Fine art award in National youth festival, Jiwaji University, M.P. 2004
The Earth Day award by Orissa University of Agriculture & Technology, Orissa. 2001
Research Supervision: One
Contact Information
Faculty of School of Fine Arts, Noida International University, Greater Noida, Uttar Pradesh E-mail: umeshnayak@niu.edu.in.