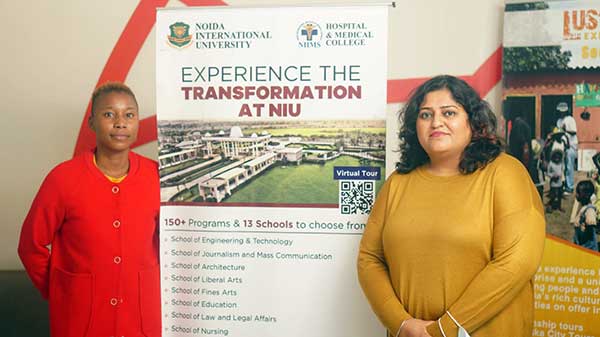 Noida International University (NIU) is known to be one of the preferred destinations for international students seeking quality education in India. Ever since the university came into existence, its primary endeavour has been to facilitate international students with desired course curriculum, diverse learning environment and dynamic teaching pedagogy.
Keeping in mind India's external economic policy, special emphasis is given to the African countries. Once again, to make students aware of the efforts put in by NIU to facilitate African students with the desired level of education, our International Admissions Team helmed by Ms. Alkananda (Dy. Director Admissions and International Relations) visited Lusaka, Zambia. Accompanying her on this highly important mission was Ms. Sheeradeep Kaur (Manager International). From February 27 to March 3, both the members of the International Admissions Team conducted a student recruitment exercise with the local representatives to increase visibility, networking and collaboration with associate partners for student outreach. The team interacted with students from various cities of Zambia.
During the team's stay in Zambia, they conducted various seminars and found that students of Zambia were quite interested in the Allied Health Sciences and Engineering programmes offered by Noida International University.
After every session, a Q&A session was also conducted in which the floor was open for students to ask questions related to eligibility criteria and scholarships offered by NIU.