School of Fine Arts is driven to provide excellent educational opportunities, responsive to the needs of students through integration of teaching and learning based on experimentation, exploration and exposure to traditional and contemporary art practices.School of Fine Arts (SFA) is a creative centre which provides a unique educational ambience to the students to explore the field of creativity. School of Fine Arts comprises four departments, i.e. Applied Arts, Painting, Printmaking and Sculpture which offers two professional programs. BFA (Bachelor of fine arts) & MFA (Master of fine arts), both the specialization provide, students a comprehensive and rich curriculum with the combination of theory and practice. It is designed for art practitioners to work on a wide variety to develop their skills and knowledge with multidimensional approach. The rigorous studio practice and regular discussion between students, faculty members and experts lead students to attain the degree of satisfaction.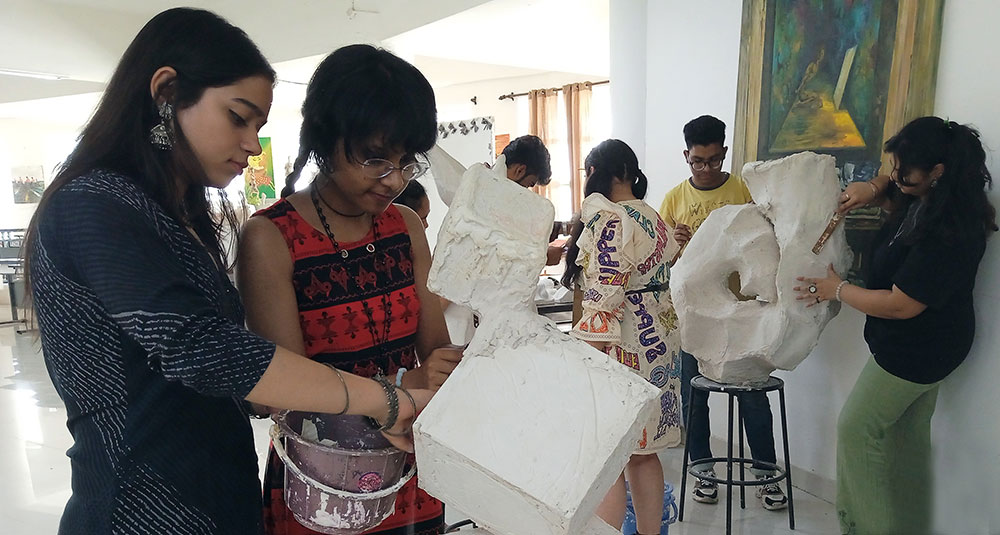 I am delighted to welcome you to the Noida International University, School of Fine Arts, extremely pleased to serve as Director for the School of Fine Arts and am incredibly proud of the academic quality, pathways and opportunities available to our students.  Learning at School of Fine Arts, NIU isn't just an academic pathway to a valued credential, it is an experience.
Our School offers an exceptional opportunity for students to discover their authenticity as burgeoning artists. The artistic skills that students learn in their chosen disciplines are transferable to numerous other career paths outside of the arts, as well. Students will learn to think creatively and with originality. These are prized attributes in our most successful 21st century entrepreneurs – and artists have been in the forefront of many important advances in society.
From our perspective, there has never been a more exciting time for artists – with many fascinating new careers opening up in our rapidly changing world. At NIU, in the School of Fine Arts, students are exposed to the newest thinking and most important skills in the arts. We teach our students to actually invent their own careers and artistic lives; with strong mentorship from our outstanding faculty. The integration of research and practice in one's discipline, the ability to navigate within broad and interdisciplinary frameworks, the mastery of excellent communication skills and the encouragement of deep curiosity about life mark the distinguishing characteristics of the vital and progressive SFA arts education.
Annual Art exhibition with Jury
Art studio & practices
Visits of museums, Art galleries & major Art Exhibitions
Educational Tour
National & International Participations
Art Workshops & Seminars
Expert Lectures & Film Screenings
Live Model Study
Bachelor of Fine Arts-Applied Arts
Bachelor of Fine Arts- Painting
Master of Fine Arts- Applied Arts
Master of Fine Arts-Painting
Bachelor of Fine Arts-Printmaking
Master of Fine Arts – Printmaking
Bachelor of Fine Arts- Sculpture
Master of Fine Arts- Sculpture
Ph.D. Fine Arts
Our research areas explore themes as diverse as the impact of wall painting; ancient rock art on rock shelters and contemporary art, to the way memes are transforming society. Our community of creative research includes artists, art historians, heritage and digital specialists. Fusing the historic with the contemporary is a core part of our ethos. Impact of various artists on contemporary practicing artists, Importance of Art movements in world art history, Role of methods and materials and its importance in present context, Essentials of contemporary ways of doing art works in given time and space, Journal of the Early Book Society for the study of manuscripts and printing history, Role of technology and internet for modern trends in visual art, Challenges for Creativity in contemporary times as visual artists. Impacts and Role of social media in concept development in visual language for student from rural and urban setups, Study the processes and effects through updated technology for the use in present scenario, Impacts of Art Houses and Galleries for young and upcoming artists in the country, Studying and understanding the concept development in visual art through society and history, Art as social tool and its impacts on society, Understanding various forms of traditional and tribal art in India and abroad, A study modern art in India and abroad, Elements of visual arts and their application in visual language.